Top Domestic Hotels Committed to Sustainability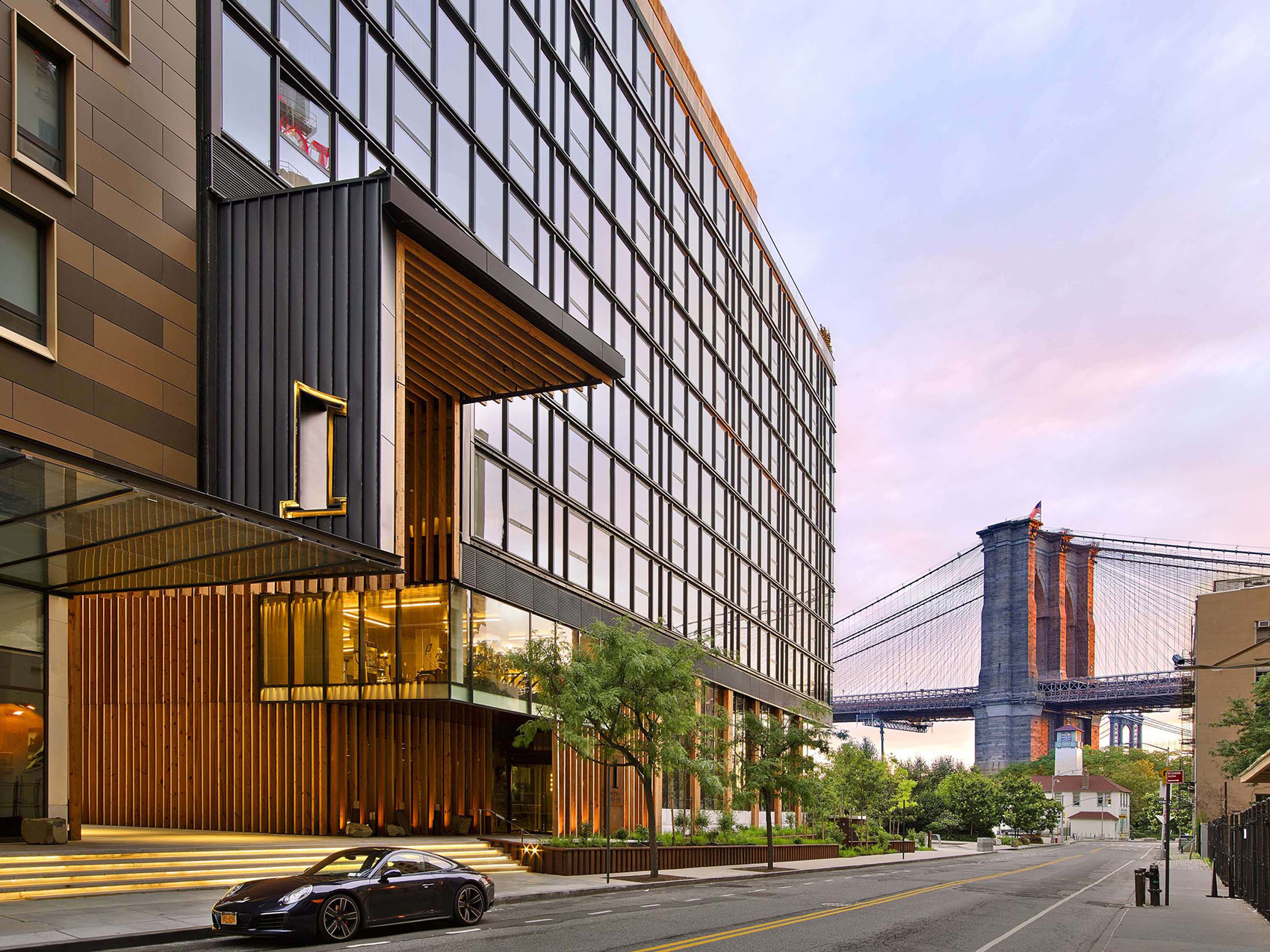 Image Credit: 1 Hotel Brooklyn Bridge
Reducing our carbon footprint and maintaining a sustainable business are essential components of cultivating a thriving planet. Yet, in 2020, we emitted over 45 billion tons of carbon dioxide into the atmosphere, with the aviation and hospitality industries found to be responsible for roughly three percent of those emissions.
For this purpose, hotels and airlines are taking aggressive measures to be both eco-friendly and sustainable. They've made changes beyond just recycling or reducing their carbon emissions and are actively seeking ways to reduce overall waste and energy usage.
To find the country's most sustainable hotels, we're looking for LEED certifications and various commitments to reducing waste, water consumption, and energy. The LEED rating system by the U.S. Green Building Council was developed to measure a building's dedication to going green.
LEED-certified buildings are proven to lower carbon emissions, save money, improve efficiency, and create an overall healthier environment. These green hotels aren't just installing an EV charger in the parking lot; they want their guests' toes to tread on grass, not concrete.
We've rounded up a list of the top sustainable hotels in the country that are going the extra mile to take care of our globe.
EXEC is a highly curated hotel, travel, lifestyle, and business benefits program. Many of our hotel partners are committed to sustainability, including 1 Hotels.
Receive preferred pricing, elite statuses, and other perks with an array of hotels and resorts with an EXEC Membership.
Learn More
The Top Sustainable Hotels in America
1 Hotel South Beach
As one of the first mission-based hotel companies, 1 Hotel is driven by sustainability. The South Beach location moved into an existing building and ensured that 75% of construction waste was recycled rather than sent to a landfill. This property is five-star and LEED Silver without compromising on its luxurious elements.
Green Features
A fleet of Tesla house cars
In-room reclaimed chalkboards
100% natural bath products
Monthly candlelit Dark Sky events to raise awareness of global brightening
Ceilings made of reclaimed water towers from Alaska
Biophilic interior
Filtered water system to avoid single-use water bottles
Low flow plumbing
1 Hotel Brooklyn Bridge
With a sustainability mission, 1 Hotel Brooklyn Bridge is a five-star property perched on the East River. Its LEED Gold-certified touch of green complements the modernity of Brooklyn perfectly and is a favorite for business travelers in NYC.
Green Features
Interior design with reclaimed wood and vegan leather
Repurposed material used for clothing hangers and floor mats
In-room filtered water system to avoid single-use water bottles
Eco-friendly toiletries
Fresh apple farm stand in lobby
Farm-to-table restaurants
Room keys made of recycled wood
Eco-friendly Keetsa mattress
Virgin Hotels Chicago
Conveniently located in the heart of Chicago, this LEED Gold-certified property is taking green to a whole new level by promoting walking tourism and utilizing green-housekeeping services. With a TripAdvisor walkability rating of 100/100, this property is the brand's first to achieve LEED Gold certification.
Green Features
Soap-donation program
Green roofing material for ideal stormwater management
Smart thermostats
Occupancy sensors to detect when guests are not in the room
Aerated faucets in restrooms to assist with water conservation
High-performance windows and sensor lighting to reduce energy usage
Option for guests to donate $0.75 to offset their reservation's carbon footprint
The Ritz-Carlton Charlotte
This is the first environmentally-built property for The Ritz Carlton and the first in the city. Designed to attain LEED Gold certification, sustainability meets luxury in this newly opened hotel in the heart of downtown.
Green Features
Water purification system to divert 73,000 plastic water bottles from landfills
State-of-the-art air transfer system
Bi-level penthouse Wellness Center utilizes organic and vegan spa products
Meeting space uses recycled aluminum conference tables
Complimentary parking for hybrid vehicles
Green, vegetated rooftop for heat reflection and reduced energy usage
Complimentary bicycle usage and valet bicycle parking
Leftover food donation to Second Harvest Food Bank of Metrolina
W San Francisco
The California Hotel and Lodging Association honored the W San Francisco with the 'Good Earthkeeping Award' in 2008 for its environmental leadership in the Bay Area. The hotel is also the first existing building in North America to receive the LEED-EB Platinum certification.
Motion sensors to reduce energy consumption when guests are not in rooms
Energy-efficient lighting system
HVAC system that saves 300 kWh of energy annually
Food and beverage is organic, biodynamic, and locally produced
Power down all PCs automatically after 15 minutes of inactivity
Eco-friendly toiletries
Read more here for The Best Business Hotels in San Francisco
For more sustainability content, head to Sustainable Business Travel, Explained to learn about eco-friendly initiatives to minimize your carbon footprint.