The Best Business Hotels in San Francisco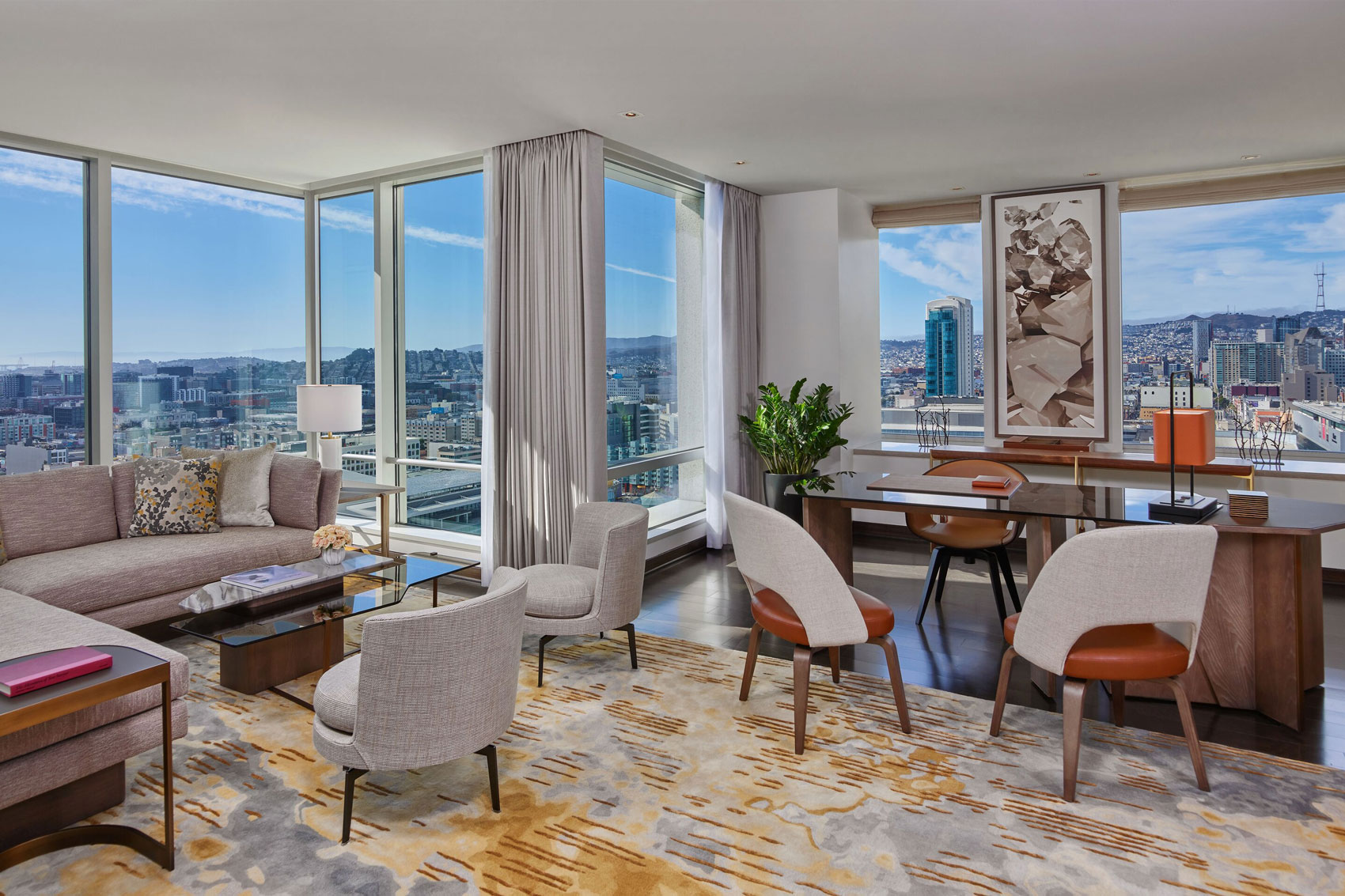 Image Credit: The St. Regis San Francisco
A national hub for commerce, finance, technology, and sports, this West Coast metropolis is one of the most populated cities in the nation. Preserving its Gold Rush legacy, San Francisco has become the "Wall Street of the West," surpassing surrounding cities economically and culturally.
Ranked the 7th highest-income county in the nation and the 6th most competitive financial center in the world, it's no surprise San Francisco was designated an Alpha World City in 2017.
Home to over twenty international banks, six Fortune 500 companies, and a majorly diversified service economy, business travel to San Francisco remains consistently in high demand.
Selecting the right hotel when arranging any kind of travel can be overwhelming, especially in the busy Golden City. We've crafted a curated list of the top business hotels in San Francisco, along with some factors to consider for your next corporate trip.
Choosing a Business Hotel in San Francisco: Factors to Consider
COVID-19 Safety
With the rise and fall of COVID-19 levels, business travel has become unpredictable, and at times, daunting. The hospitality industry has implemented dozens of measures to counteract the disruption of the pandemic.
Before booking your business hotel, ensure they are making a strong commitment to cleanliness, and taking the necessary precautions to mitigate the spread of COVID-19 to keep your team safe.
Health & Wellness
There are numerous health and wellness amenities that are essential when booking your next business hotel. Whether it's a dip in the pool, a morning jog, an in-suite massage, or a good night's rest, prioritizing one's mental and physical wellness is critical to a successful trip.
Jetlag is typically inevitable when crossing time zones, and if sound-proof rooms aren't available, request a corner suite to help maintain a quiet environment. Stay hydrated, avoid alcohol, and try to consume nutrient-dense meals to keep you on your A-game.
Location and Commuting
Choosing a San Francisco business hotel that is within proximity to the airport, as well as the city's top attractions and restaurants can make your trip much more convenient. This way, you can avoid long rides to and from the airport. Check to see if your business hotel offers private car services, on-site rentals, or shuttle services to and from the airport and other major destinations in the city, as well—you may be pleasantly surprised.
Top Business Hotels in San Francisco
Fairmont San Francisco
An Edwardian landmark perched on Nob Hill, this grand property is minutes from Union Square and less than two miles from the entertainment center of Pier 39. The Fairmont is home to a plethora of luxuries that are perfect for any traveler looking for comfort and elegance.
Other amenities:
Valet parking
Tonga Room & Hurricane Bar
Boutique shopping
Bicycle rental
Social hour
Airport shuttle
Private car service
Onsite car rental
24/7 fitness center & sauna
Spa & massage services
Le Méridien San Francisco
Only three minutes from the Transamerica Pyramid, this hotel is centrally located in the heart of the Financial District. With bay and city views, suites are loaded with all the amenities any business traveler may need. Le Méridien is connected to the Bentley Reserve conference venue via a sky bridge.
Other amenities:
Complimentary WiFi
Valet parking
24/7 fitness center
Bicycle rental
Terrace restaurant and bar
Skyline views
On-site car rental
24/7 business center
The Ritz-Carlton San Francisco
Another ultra-luxe property, this five-star hotel occupies a 19th-century Neoclassical landmark near the financial district of San Francisco. Hosting a plethora of business amenities, staying here puts you only eight minutes away from the bustling Union Square.
Other amenities:
Valet parking
Exclusive Club lounge
Several dining options
24/7 fitness center
24,000 square feet of meeting space
Wine tastings
24/7 business center
Krigler perfume shop
San Francisco Proper
A redbrick flatiron building in the middle of the city's Mid-Market district, San Francisco Proper is a luxurious property with designer toiletries, Italian linen, and novel decor. Within walking distance of a light rail stop, this hotel is a great option for business travelers.
Other amenities:
Valet parking
Complimentary WiFi
Nightclub
Bicycle rental
24/7 fitness center
Rooftop bar and lounge
Social lobby
City views in suites
The St. Regis San Francisco
Perhaps one of San Francisco's most luxurious properties, St. Regis is housed in a 20th-century landmark in the heart of the SoMa district. Loaded with full-service luxuries, business travelers will feel like they're on vacation at this five-star hotel.
Other amenities:
Complimentary WiFi
Valet parking
Onsite car rental
24/7 fitness center
Onsite hair salon
Butler service
Indoor pool
W San Francisco
Located within walking distance of the nearest Muni light-rail stop and the San Francisco Bay, this trendy hotel is a statement piece to the city's SoMa district. Perfect for art lovers, the W is decked in local and international talent and decorated with bold and brilliant works of art.
Other amenities:
Paid WiFi
Nightclub style cocktail bar
Sleek lounge
24/7 fitness center
Bicycle rental
Valet parking
Onsite car rental
YOTEL San Francisco
A simple and modern hotel centrally located downtown, YOTEL combines affordability with efficiency. It's the perfect place to rest your head after a long day of meetings and conferences and features several dining and bar options in case you're looking for a night-in.
Other amenities:
Complimentary WiFi
Valet parking
Komyuniti social space
24/7 fitness center
Breakfast buffet
Tech-savvy suites