Sustainable Business Travel, Explained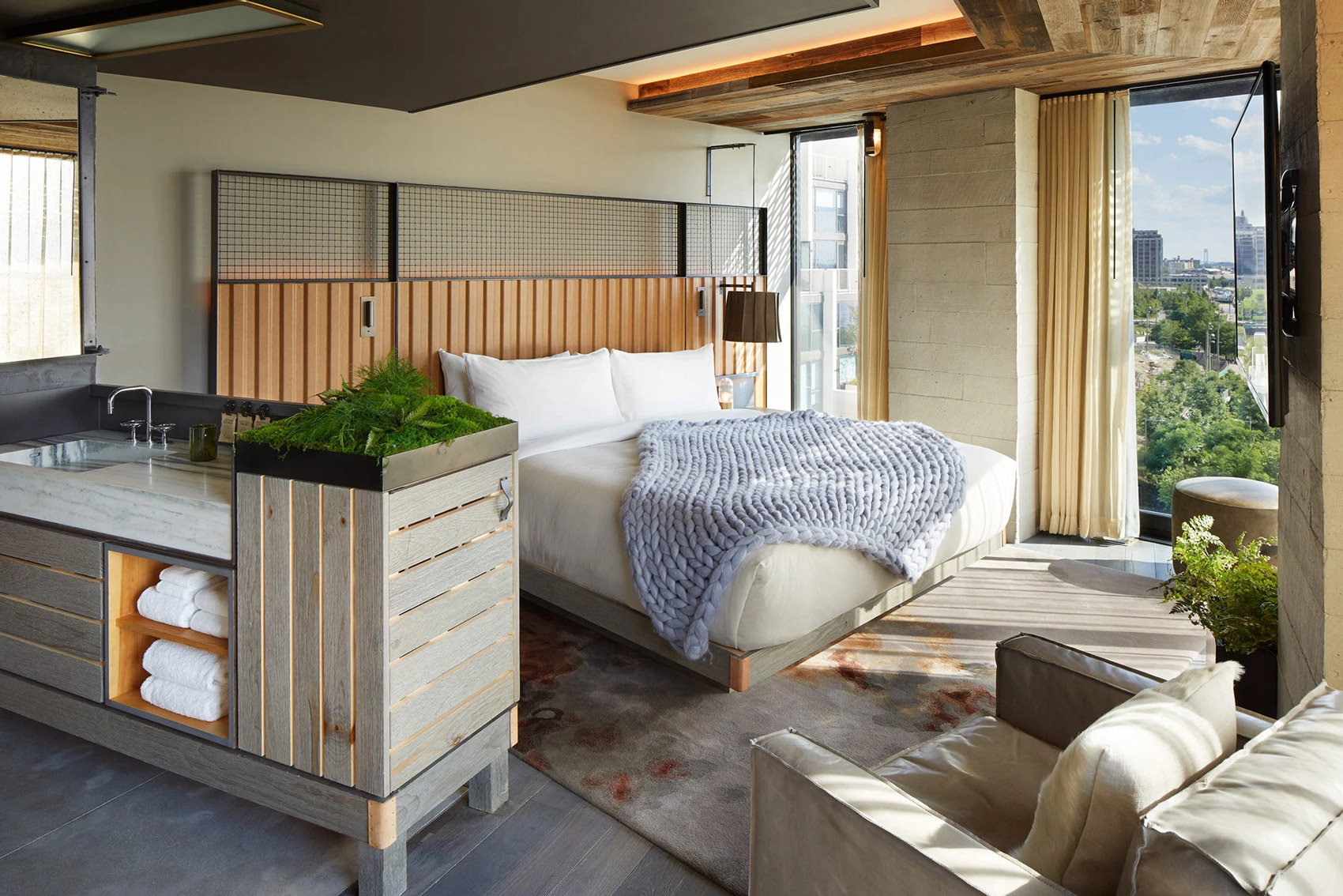 Image Credit: 1 Hotel Brooklyn Bridge
Why is sustainable business travel so important?
The World Economic Forum ranked the globe's failure to act on climate change as the world's greatest risk over the next decade, illustrating the urgency for action from world governments, businesses, and individuals.
In 2019, we emitted over 43 billion tons of carbon dioxide into the atmosphere. The aviation and hospitality industries were found to be responsible for roughly three percent of the globe's carbon emissions. For this purpose, businesses are taking aggressive measures to reduce their carbon footprint when conducting corporate travel.
Sustainability and eco-friendly commitments are urgent and vital responsibilities that companies are taking on to combat climate change. While business travel is an economic necessity, reducing our fossil fuel consumption is just as essential to the lifespan of the planet.
Below is a guide to building a more sustainable business travel program—with tips and tricks to lower your business's carbon footprint.
How to Lower Your Company's Carbon Footprint
To determine how to reduce your company's emissions, start by calculating your annual carbon footprint and identify where your largest source of carbon emissions is coming from.
Similar to a business travel policy, your company should also have a green business travel policy. This guide should aim to set eco-friendly goals, measures to reach them, as well as incentives and restrictions for employees to be aware of when traveling. Promote this green travel platform with your employees and educate them on the importance of sustainable business travel.
Aviation, hotels, and transportation make up a large portion of the globe's carbon dioxide emissions. We'll go over industry-specific methods to reduce CO2 emissions and protect our globe's natural resources.
EXEC is a highly curated membership program designed to improve the lives of busy executives.
Our travel and hotel partners include United Airlines and 1 Hotels—both of whom are committed to sustainability.
Your EXEC membership will grant you preferred pricing with these partners and more—alongside a slew of other benefits. Learn more today.
Apply Today
The Aviation Industry
Fly Economy
Not only is this generally the most cost-effective option, flying economy will heavily reduce your carbon footprint. An individual's airfare emissions are based on the amount of space they take up on the aircraft. Since business and first-class are often up to double the amount of space as their economy counterparts, and also allow you more luggage, those seats are far less environmentally-friendly.
Fly Non-Stop Routes
While it may be obvious that shorter distances and fewer legs will utilize less fuel and reduce CO2 emissions, booking nonstop flights is essential for one more reason. Aircraft utilize the most energy at takeoff and landing, therefore, arriving at your destination on a non-stop route is highly recommended — and is also the more convenient option. Moreover, layovers typically require additional hotel stays and car rentals which leads to more energy consumption overall.
Fly with Low-Emission Airlines
Different airlines produce different levels of carbon emissions, even while taking the same route. When aviation is necessary, research each airline's carbon footprint and decide which sustainable option is best for your business.
Some airlines even offer the possibility to offset your carbon footprint at checkout. Remember, though—reducing your carbon emissions is always better than purchasing carbon offsets.
One of EXEC's airline partners, United, is committed to decarbonizing aviation. United is making investments in alternative fuel manufacturers, purchasing aircraft with significantly higher fuel efficiency, and electrifying its ground service equipment fleet, to name a few strategies.
The Hospitality Industry
Stay at Green Hotels
Your green business travel policy should include exclusively working with hotel chains that meet certain sustainability standards. From water conservation and construction design, to fuel management and waste reduction, BREEAM and LEED certifications are great indicators of a building's carbon footprint.
1 Hotels, an EXEC Hotels & Resorts Collection partner, is an excellent choice—their properties are sustainability-focused, without compromising on the luxury experience guests are looking for.
Reduce Your Suite's Energy Consumption
It is common for people to be cognizant of their energy consumption at home to keep the electricity bill within budget. These measures should be utilized in hotels as well.
Simple actions like turning off the AC and lights when leaving your room, and unplugging the mini-fridge if it is not in use can go a long way in reducing energy utilization.
Avoid Daily Towel and Linen Changes
Laundry accounts for roughly 16% of hotels' water and energy usage. You've likely spotted a sign in the bathroom that asks guests to reconsider requesting daily towels and sheets. This is done in an attempt to save water and energy, while also increasing their lifespan and reducing the expense of towel and sheet replacements.
Transportation
Car Sharing and Electric Vehicles
Carpooling and choosing electric vehicles can help reduce your company's carbon footprint. Improve vehicle utilization by reducing mileage, avoiding traffic, and incentivizing drivers to go green.
A new development in the transportation department, Uber Green connects riders to hybrid and fully-electric vehicles. This can save the company money on car rentals while also contributing to an eco-friendly transit option.
Public Transportation
It is important to note that cities with strong public transportation can reduce the country's gas emissions by 37 million metric tons every year. When traveling for business, consider choosing a hotel that is within walking distance of the city's trains and subways.
Encourage Walking
When possible and weather permitting, companies should promote, encourage, and incentivize walking, biking, and scootering as a form of short-distance transportation. Busier cities tend to have bike and scooter-sharing programs and when traffic is common, these may make getting around much easier.
Conclusion
There are various platforms and services available that can help determine your company's carbon footprint and provide you with recommendations to help offset emissions.
Encouraging and promoting greener and more sustainable ways of business travel is essential to supporting our globe's lifespan and ultimately saving the company money. The solution to our climate crisis is in our hands and now is the time to make a difference for our planet's future.