The Best Hotels for Business Travelers in Los Angeles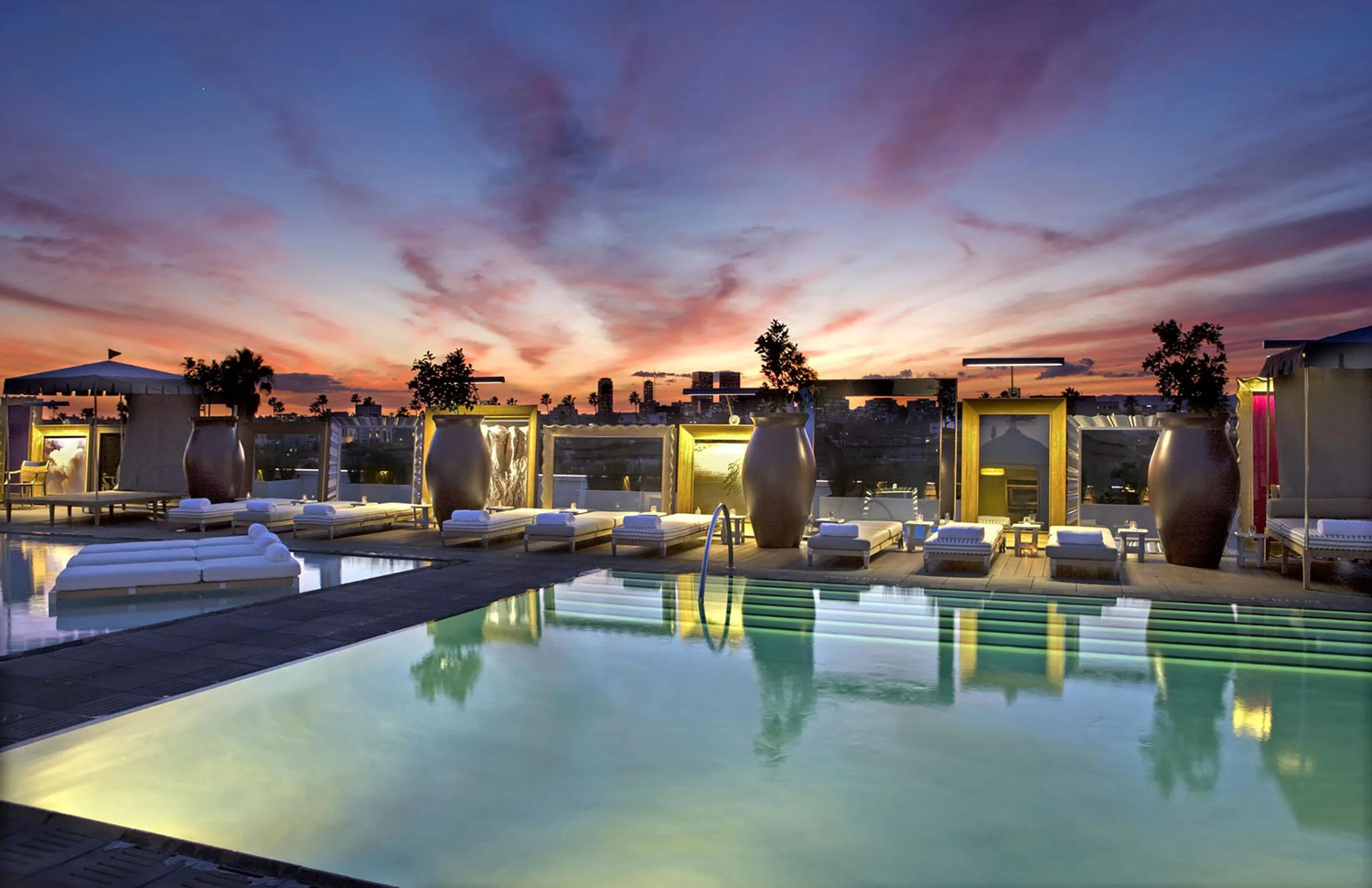 Image Credit: SLS Beverly Hills
Los Angeles is world-renowned as a global hub for the film and entertainment industries, making it a booming destination for business travelers. Southern California's incredible climate and proximity to the ocean makes LA an excellent choice for busy executives looking to take time off, as well.
Between Hollywood, the roaring tech hub to the north, and the robust companies headquartered here, Los Angeles is home to the third-highest GDP in the world, after New York City and Tokyo.
Below, you'll find a curated selection of hotels in Los Angeles for both business travelers and leisurely stays—and some tips for a successful trip.
Business Travel to LA: What To Look For
COVID-19 Safety Measures
With the constant flux of regulations related to mask mandates, vaccine policies, and travel restrictions, navigating business travel today can be tricky. It's imperative the hotel you choose is doing everything they can to keep guests safe, to ensure a seamless trip.
Contactless check in, social distancing measures, and consistent sanitizing are some of the many ways the hospitality industry is keeping up with local and state regulations.
Flexible Cancellations
With the rise and fall of COVID cases and ever-changing regulations, flexible cancellation policies are essential for business travelers.
Flights, conference sites, and meeting dates can change at a moment's notice. Having the option to reschedule or cancel your reservation on short notice is an important factor when considering a hotel for business travel to Los Angeles.
Parking & Car Service
Between valet services, on-site parking, and private car service, a convenient, reasonable, and safe option to leave your vehicle or commute is essential when choosing a hotel in LA for your business trip. Parking fees are generally billed per night and per vehicle, which can add up quickly if your hotel does not offer complimentary parking for business travelers.
Location
While it only makes sense to book your hotel stay within proximity to meeting venues, being near the city's top restaurants and attractions is always a plus. The luxury of not needing to commute far—or at all—while still meeting your business obligations is underrated. Between the sunny shores of Southern California and the nightlife in LA, you'll have plenty to do after your work commitments are met.
LA's Top Hotels for Business Travelers
Four Seasons Hotel Los Angeles at Beverly Hills
As one of the most luxurious hotels in the city, The Four Seasons Hotel at Beverly Hills exudes rich history, opulence, and glamor. An attractive location within steps of Rodeo Drive, you'll be minutes from designer boutiques, fine-dining, and stunning views of LA. Whether you're here for business or leisure, this flagship property will maximize your creativity and leave you feeling refreshed.
Other Amenities
Wilshire Presidential Suite
Mediterranean-style pool
Valet parking
Les Clefs d'Or Concierge team
High-speed WiFi
Overnight shoe shining
Complimentary house car on select evenings
Spa services
The Hoxton, Downtown LA
Conveniently located in the Fashion District, this trendy hotel is perfect for business travelers looking to enjoy their night after work. Only minutes from The Crypto.com Arena, you're bound to catch a concert or basketball game when in town. With a rooftop pool, two restaurants, and several beautifully designed meeting spaces, it's a popular choice for business travel to LA.
Other Amenities
Rooftop Peruvian restaurant and pool
Complimentary WiFi
Complimentary bike rentals
Laundry service
Valet parking
Mountain views
Central Broadway location
The Line LA
Only miles from LACMA and walking distance from the Wilshire / Normandie subway station, this industrial-style hotel is a top choice for business travelers in Los Angeles. One of Koreatown's finest, The Line offers floor to ceiling windows, original art, and Michelin-star flavors. Whether you make this your interim office or your getaway from a hectic work schedule, this hotel provides the perfect ambience to spark creativity and maximize productivity.
Other Amenities
Several indoor/outdoor event spaces
Weekly Tai Chi classes
Spa services
Barbershop services
Complimentary WiFi
Valet parking
Floor to ceiling windows
The Peninsula Beverly Hills Hotel
Among many other accolades, The Peninsula is the only Forbes Five Star-rated property in Southern California. Only a twelve minute walk from the luxuries of Rodeo Drive, this hotel is a grand escape from your daily obligations to work.
Whether your travel is for leisure or business, The Peninsula Beverly Hills features many amenities for travelers of every kind. With an immaculate location, a luxe spa and rooftop pool, and many amenities to meet your needs, it's a popular choice for business travelers in LA.
Other Amenities
On-site parking and complimentary transportation
Barber and salon
Complimentary WiFi
Upgraded suites with garden villas and full kitchen
Several indoor and outdoor event spaces
Traditional afternoon tea
The Ritz-Carlton Los Angeles
Another hotspot for luxury and after hours entertainment, The Ritz-Carlton is only minutes from The Crypto.com Arena, perfect for those looking to catch an evening Laker's game after meetings.
Known for its posh and luxurious design, this five-star hotel is a landmark property in the L.A. LIVE complex. Home to the largest spa in downtown LA, elegant event spaces, and celebrity-chef driven eateries, The Ritz-Carlton is a great choice for business and leisure travel.
Other Amenities
Nearby parking
Complimentary WiFi
24/7 room service
Rooftop pool
Club Lounge
Over forty meeting rooms
Daily yoga classes
Limousine service
SLS Beverly Hills
A hotel built to make you feel like royalty, this is one of the city's most elegant and luxurious locations to rest your head. In true Beverly Hills style, you'll be greeted with red carpets and treated to a plethora of award-winning services. A Sam Nazarian property, business travelers will deem this is the ultimate treat to a long day of meetings and conferences.
Other Amenities
Valet parking and car hire
Soundproof rooms
Poolside bar
Rooftop restaurant
Philippe Starck custom interior decor
Salon and spa
Smart HDTV
Read more here for the Best Luxury Hotels in Los Angeles