The Best Business Hotels in Paris, France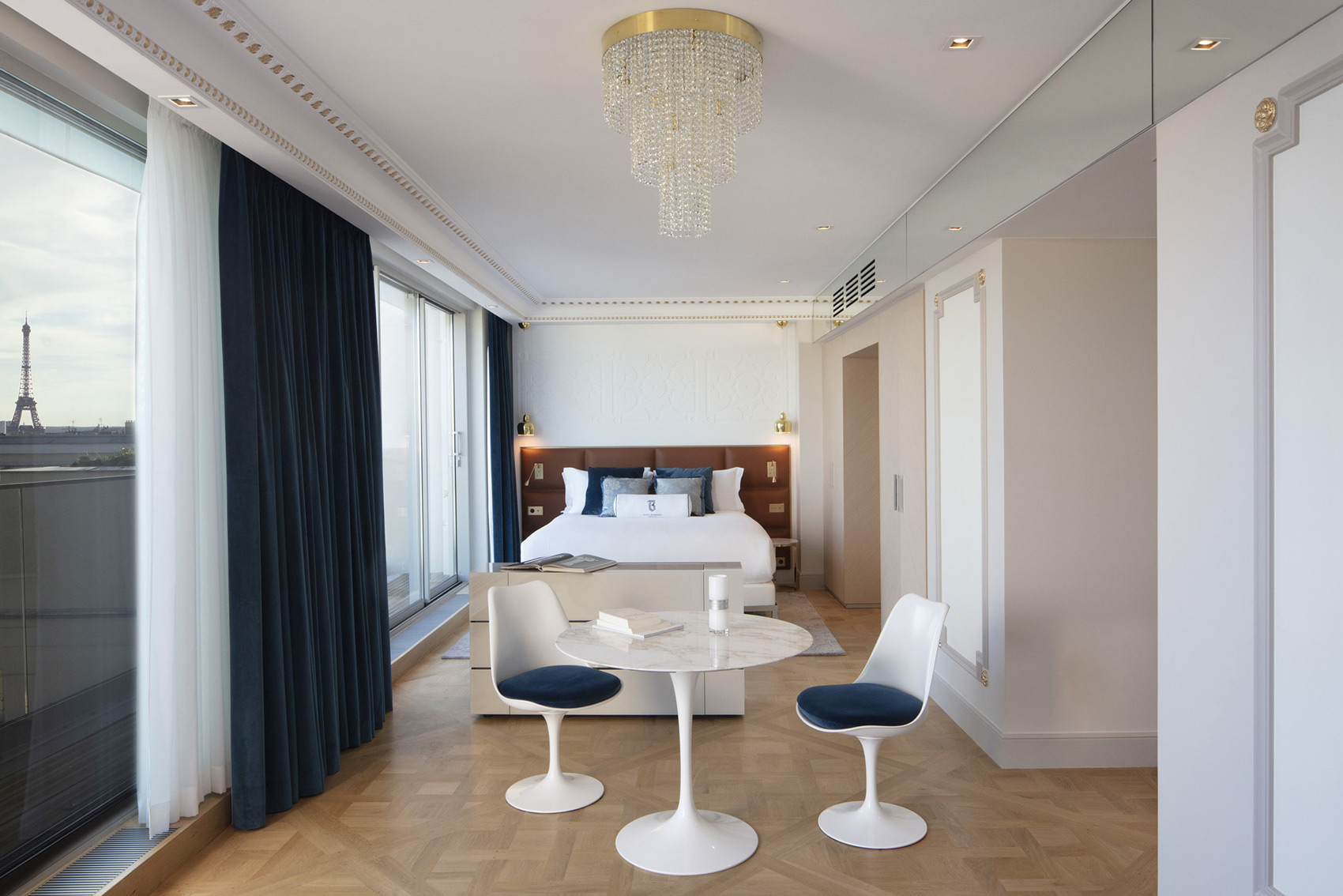 Image Credit: Hotel Bowmann
Welcoming millions of travelers every year, the City of Light is one of the most frequented destinations around the globe for both business and leisure. The Paris Motor Show and Le Bourget Air Show are among the most visited business shows in the world.

Home to the highest concentration of headquarters for Europe's largest companies, it's no surprise corporate travel to Paris remains in high demand. With the world's fourth-largest metropolitan economy and the highest GDP in Europe, Paris is more than accustomed to successful operations.
Whether you're heading to Paris for a romantic escapade or business, finding a suitable hotel is vital to a successful trip. Below, you'll find a curated list of the top business hotels in Paris.
What to Consider When Booking a Business Hotel in Paris
COVID-19 Safety Measures
COVID-19 has created a very unpredictable travel environment. Before traveling to any international destination, it is essential to be fully conscious of the local laws and regulations surrounding the pandemic. The hotel industry has reevaluated its guest experiences to ensure they remain compliant with the standards.
From contactless check-in and reduced restaurant capacities to automatic sanitation of high-touch surfaces, several protocols have been implemented to help mitigate the spread of COVID-19.
Hotel Location
Navigating your way around a foreign city can be daunting and hard to master if it's your first time, especially when a language barrier exists. If you cannot find a hotel close to your meeting points or conference centers, ensure you are close to a metro or tramway station. Whether you choose to stay in a busier neighborhood for the nightlife or a quiet suburb for the peace, the location of your business hotel in Paris is key to a successful trip.
Paris's public transportation network is relatively inexpensive and can connect you to different parts of the city much quicker than driving.
Parking
Searching for an appropriate parking spot tends to be a hassle whether you are renting a vehicle or your company has arranged for a private car service. Hotels with valet, private lots, airport shuttles, and even onsite car rental companies are all great amenities to look for.

Hotels with free parking can save you quite a bit of money. However, in most cases, parking is not complimentary — guests can expect a nightly charge of anywhere from $10 to $50.
EXEC is a highly curated hotel, travel, lifestyle, and business benefits program designed to improve the lives of busy executives. Learn more about our unparalleled hotel benefits program today.
Apply Today
The Top Hotels in Paris for Business Travel
Hôtel de Crillon
Combining old charm elegance with historic luxury, this illustrious five-star property is perched at the foot of the Champs-Elysees, overlooking the Place de la Concorde. A national landmark, Hotel de Crillon is one of the most iconic hotels in Paris for its location, majestic architecture, and posh interior.
Other amenities:
Complimentary WiFi
Airport shuttle service
Valet parking
Luxury car service
Upgraded suites offer Eiffel Tower views
Worldclass spa
24/7 business center
24–hour butler service
Clefs d'Or concierge service
Hotel Bowmann Paris
Set on the elegant Boulevard Haussmann, Hotel Bowmann is ideal for business travel for its proximity to the Saint Augustin metro station. Steps from the Champs-Elysees, this five-star property is loaded with tailor-made services and luxurious amenities.
Other amenities:
Complimentary WiFi
Valet parking
Full-service laundry
Airport shuttle service
City view balconies
Award-winning restaurant and bar
Full-service spa
24/7 concierge service
Library lounge
Le Bristol
Only eight minutes from the Franklin D. Roosevelt metro station and the Avenue des Champs Elysees, this regal property dates all the way back to 1925. Combining historic architecture with Parisian art de Vivre, Le Bristol never disappoints.
Other amenities:
Complimentary WiFi
Complimentary parking
Complimentary breakfast
Airport shuttle service
2 acclaimed restaurants
13,000 square foot garden terrace
Indoor pool with Eiffel Tower views
The Living Bread
Four Seasons Hotel George V Paris
Steps from the Champs Elysees and the Eiffel Tower, on George V Avenue, this art deco property is a favorite for those visiting Paris for the first time. Between five Michelin-starred restaurants, the royal suites, and the unparalleled service, business travelers will feel like they're on a posh getaway at the Four Seasons George V.
Other amenities:
Complimentary WiFi
Complimentary parking
Complimentary breakfast
Airport shuttle service
Indoor pool
Penthouse with private terrace and Eiffel Tower views
Full-service spa & hair salon
Chauffeured limo service
Full-service laundry
The Ritz Paris
Overlooking the Place Vendome, The Ritz Paris is ranked among the most luxurious hotels in the world. Only steps from the Opera Garnier and The Louvre, this iconic property named several suites after previous notable guests, such as Coco Chanel, Ernest Hemingway, Chopin, and Cesar Ritz himself. It underwent a massive four-year renovation and makeover that cost several million euros in 2012, led by famous French designer Thierry Despont.
Other amenities:
Airport shuttle service
24/7 concierge service
Hemingway-inspired bar and restaurant
Full-service spa featuring Chanel products
Award-winning pastry bistro
Sofitel Paris Le Faubourg
Perched between the famous Faubourg Saint-Honore and the Champs-Elysees, this designer property was once the home to the French Marie Claire magazine. Housed in a grand townhouse-style mansion, the Sofitel Paris hotel is within walking distance of the American Embassy and the Tuileries Gardens.
Other amenities:
Complimentary WiFi
Valet parking
Airport shuttle service
Clefs d'Or concierge
Currency exchange
Full-service spa
Penthouse apartments
In-room Balmain amenities
Full-service laundry
24/7 fitness center
Shangri-La Paris
Once home to Prince Roland Bonaparte, Napoleon's grandnephew, this royal property is now a five-star hotel conveniently located just across the Seine and in the shadow of the Eiffel Tower. Surrounded by the city's top art attractions, Shangri-La Paris was designated a Historical Monument in 2009.
Other amenities:
Complimentary WiFi
Valet parking
Private car service
Airport shuttle
Currency exchange
Michelin star dining
Chi, The Spa
24/7 fitness center
Butler service