Miami's Best Hotels for Business Travelers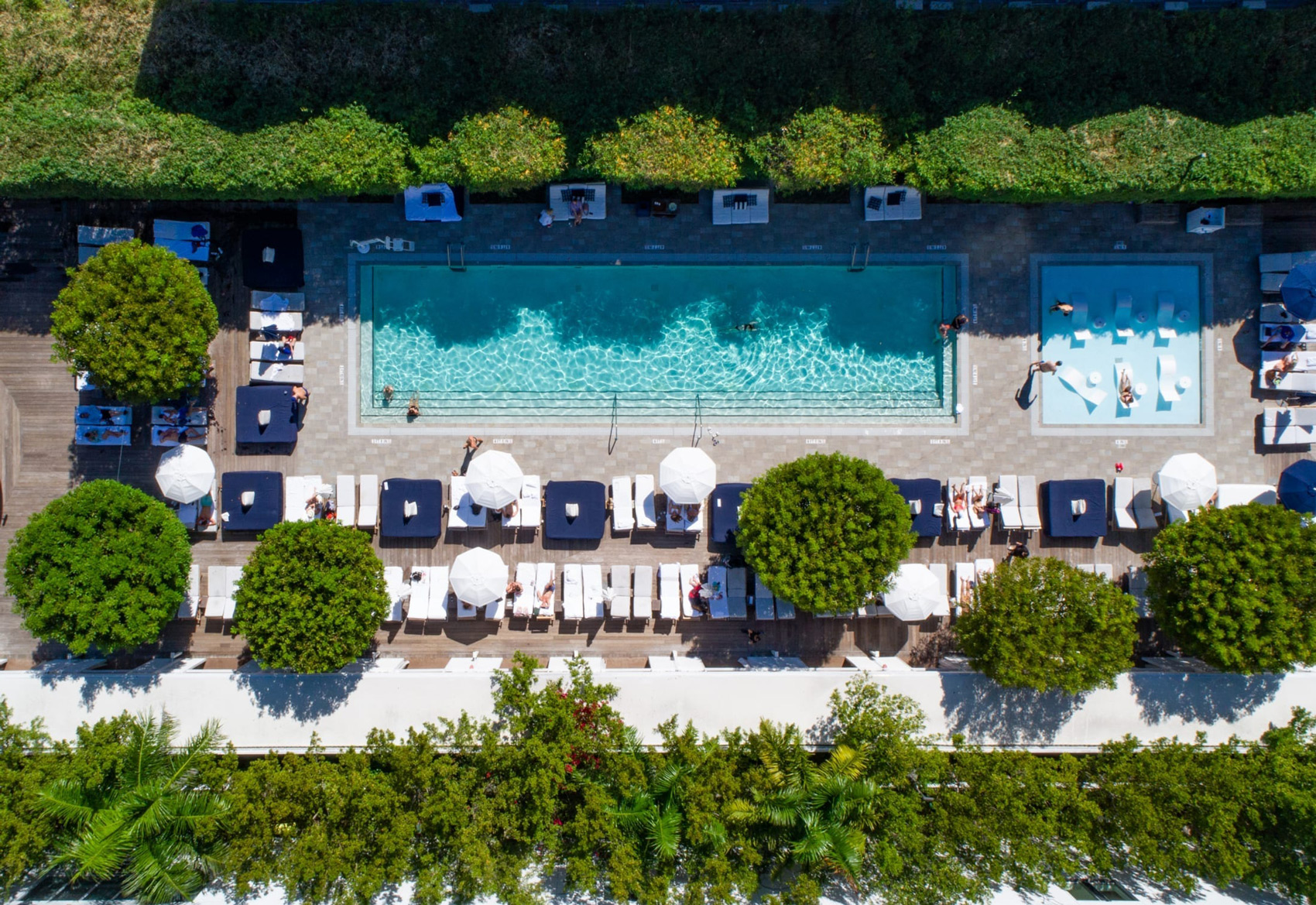 Image Credit: Nautilus by Arlo
Famous for its year-round sun, luxury real estate market, art scene, raucous nightlife, and iconic beaches, Miami is a global hub for corporate travel — and after-work pleasure. While the city is the headquarters of numerous noteworthy companies, South Beach serves as the perfect place to sit back, relax, and enjoy the fruits of your labor.
With a plethora of art-deco resorts and luxury high-rise hotels, the options to rest your head are plenty. Below, you'll find a curated list of hotels for corporate and leisure travel to Miami.
Business Travel to Miami: Factors to Consider When Selecting a Hotel
COVID-19 Precautions
The pandemic created an unpredictable environment for business travel, making it difficult to keep up with regulations and mandates, let alone keep your team safe. Health is a priority when traveling in 2022, and ensuring your hotel takes the proper precautions to keep guests safe is essential.
Over the past two years, the hospitality industry launched several initiatives to mitigate the spread of COVID-19 and comply with local, state and federal guidelines. Look for hotels that offer contactless check-in, room sanitization between guests, and sanitizer stations appointed throughout the property.
Location & Beach Proximity
Being in Miami means you're always within miles of a sandy shore and the cool ocean waters. While being within proximity of your meetings and conferences is essential, having easy access to the beach is a perk that you shouldn't miss out on when traveling for business in Miami.
Whether you're enjoying a bay view from your balcony, or heading for a dip after a long day of work, the beach is a great place to unwind.
Parking & Commuting
Searching for parking in heavily populated areas can be a hassle. Whether you're driving a rental vehicle or a company car, a hotel with available parking is one less thing to worry about. Hotels with airport shuttles, proximity to public transportation, and valet options are great perks that will make your business travels in Miami that much more convenient.
In most instances, parking doesn't come free—expect a nightly charge of anywhere from $12 to $50 depending on whether it's self-parking or valet.
That said, some hotels offer complimentary car services for guests—on a first-come, first-serve basis.
The Top Hotels in Miami for Business Travel
Four Seasons Hotel Miami
Located in the Financial District, Four Seasons Miami is already at the top of business travelers' lists for comfort and convenience. Boasting stunning views of Biscayne Bay, this glass and granite skyscraper stands out among Miami's skyline. A classic art-deco property, corporate travelers will feel like they're on a tropical vacation while staying here.
Other amenities:
Complimentary WiFi
Two miles from Viscaya Museum & Gardens
Refined rooms with bay or city views
Rooftop pool and cabanas
Nine meeting rooms
Valet parking
Onsite car rental
Spa and salon services
JW Marriott Marquis Miami
Located in the heart of downtown Miami, this 5-star hotel is one of the city's most modern properties. With quick access to the Wynwood Art District and the American Airlines Arena, as well as a plethora of luxurious amenities, the JW Marriott Marquis is a great option for business travel in Miami.
Other amenities:
Valet parking
Complimentary WiFi
Floor-to-ceiling suite windows
Award-winning Mediterranean restaurant
Indoor golf school
Full-service spa with hammam
3D media room
Rooftop pool
Kimpton EPIC Hotel
A modern skyrise located on the Miami River, this hotel is within walking distance of some of Miami's best features. Featuring a variety of health and wellness amenities, it's a great property for business travelers to refresh and rejuvenate in the middle of a long day of work meetings.
Other amenities:
Complimentary WiFi
Valet parking
Two pools and private cabanas
15,000-square-foot spa
Complimentary evening wine hour
Barre and core fusion cardio classes
Two on-site restaurants
Suites include rainfall showers and soaking hot tubs
On-site marina
Mandarin Oriental Miami
Beautifully set on the exclusive island of Brickell Key, this 5-star hotel boasts privacy from the hustle and bustle of downtown Miami, along with a plethora of luxurious amenities. With state-of-the-art conference centers, business travelers may never need to leave the property.
Other amenities:
Valet parking
Complimentary WiFi
Infinity pool
Butler service
Personal private chefs available
Full-service spa
Signature presidential suite and penthouse
Private balcony with views of Brickell skyline
Nautilus South Beach
An art-deco property, this Arlo hotel is located in the heart of one of Miami's most sought-after neighborhoods. Vibrant, tropical, and full of amenities, business travelers will feel like they're on vacation while staying here. Staying at Nautilus South Beach provides guests with easy access to Ocean Drive and the American Airlines Arena.
Other amenities:
Penthouse and oceanfront suites
1,800-square-foot saltwater pool
Private cabana rentals
Spa services
Several on-site restaurants and bars
On-site parking
Complimentary WiFi
Private beach
YOTEL Miami
Opening its doors in June 2022, YOTEL Miami is another joint condominium and hotel located in the middle of downtown Miami. Only three minutes from Bayside Market Place, guests are also within walking distance of South Beach.
Other amenities:
Complimentary WiFi
On-site restaurant and bar
Rooftop pool
24/7 fitness center
Proximity to South Beach
YOTELPAD Miami
Also opening its doors in June 2022, this hotel is conveniently located in the heart of downtown Miami, putting you within walking distance of some of the city's best dining options. Several restaurants and bars are available on-site, perfect for those looking for a late-night snack after a long day.
Other amenities:
Complimentary WiFi
24/7 fitness center
Proximity to Miami International Airport
Modern suites
Rooftop pool and terrace
Three hub meeting rooms
Central lounge