The Executive's Guide to Bleisure Trips in Miami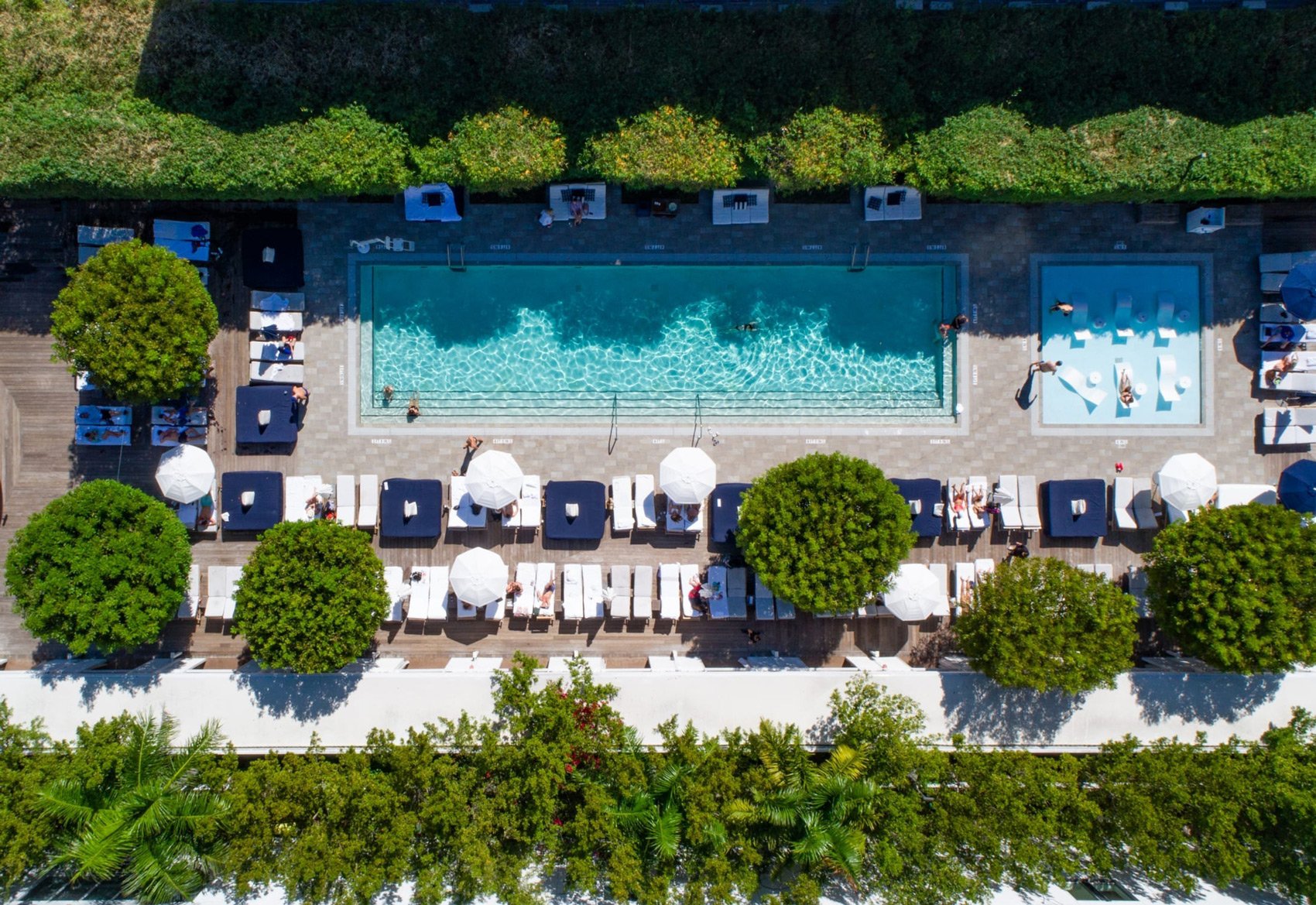 Image Credit: Nautilus by Arlo, South Beach
Bleisure: a beautiful balance of business and leisure, and the latest reason executives are packing extra for their business trips. A trend that's gained momentum in the last few years, especially in a post-COVID world, corporate travelers are taking advantage of their destinations in the best ways possible.
Business on the Beach: Miami Guide to Bleisure
Miami, with its magnetic glamour, is impossible to ignore. Salsa music spilling into the streets, espresso martinis on swanky rooftops, and of course, the warm ivory sand calling your name every morning. The balmy climate and salty air engulf you as you head to your daily responsibilities, reminding you of what's waiting for you upon your return.

Satisfying all your cravings, there is no shortage of sizzling cuisine, as Miami creatively serves everything from carne asada tacos to gold-crusted tomahawks. And as soon as the sun sets, the city's seductive allure is unleashed — leaving you to sway your hips to sultry Latin music, or escape into the electric beats of the world's greatest DJs.

Miles of art-deco hotels, boutique resorts, candlelit lounges, and Michelin-starred restaurants leave travelers with ample options to relish in Miami's glitz and glam. We've crafted the ultimate business travelers guide to indulging in South Beach - after you clock out, of course.
Getting to Miami: Private or Commercial?
Whether you're booking a private charter flight with one of our private aviation partners evoJets, Blade, or flying commercial with our travel partner United Airlines, the following two airports are the main gateways to Miami:
Airports in Miami
Miami International Airport (KMIA / MIA) — Only eight miles from downtown Miami, this airport is the largest gateway between the US, Latin America, and the Caribbean. In 2021, MIA surpassed JFK to become the busiest American gateway for international passengers.
Amenities
Jetsetters Spa
AMEX Centurion Lounge
Delta Sky Club
Yoga Room
MIA Hotel
Miami-Opa Locka Executive (KOPF / OPF) — Specializing in general aviation, OPF has four fixed-base operators and is located only eleven miles from downtown Miami and Brickell. It's a great alternative to the hustle and bustle of Miami International.
Amenities
Dedicated assistants and luggage porters
Private security and passport control
Luxurious lounges
Helipad
Hotels in Miami — Where to Sleep on Your Bleisure Trip
Luxury hotel developers flock to this city for its undeniable allure, turquoise oceanfront, and vibrant downtown. In addition, the streets of Miami are lined with Art Deco properties, showcasing the largest collection in the world. Many have recently undergone renovations and restoration to keep up with the flashy standards of South Beach.
We've selected the best hotels to combine business and leisure in Miami, accommodating your team with the city's top amenities.
Nautilus South Beach
Famous for being one of Miami's original Art Deco hotels, Nautilus is an oceanfront property only steps from Ocean Drive and six miles from the American Airlines Arena. Reserve a luxurious cabana for a day under the sun or float away in the 1,890 saltwater pool with a specialty cocktail in hand.
Choose between rooms, suites, or the grand jewel of the property - the penthouse. Loft-style living on the top floor is complemented with luxe marble finishings, a private outdoor terrace, and VIP elevator access.
YOTEL & YOTELPAD Miami
As the region's first joint hotel-pad complex, YOTEL & YOTELPAD offer travelers either traditional-style rooms in YOTEL or sleek apartment-style pads on the top floor in YOTELPAD.
The brand is known for its futuristic and tech-forward appeal, evidenced by its resident YOTEL Robots, designed to assist guests with luggage and make room deliveries.
The building is conveniently located only minutes from MIA and across the South Beach bridge. The Bayside Market is within walking distance; however, YOTEL also offers several dining options onsite.
The Ritz Carlton Key Biscayne
Tucked away in a secluded oasis, this five-star property is only minutes away from Crandon Golf at Key Biscayne. Giving travelers a healthy distance from the hustle and bustle of downtown Miami, this Caribbean-style resort is perfect for the ultimate relaxation experience.
The Ritz Carlton Key Biscayne is a fan-favorite for peace and quiet, featuring a renowned Cliff Drysdale Tennis Court, waterfront dining on fresh seafood, and private poolside cabanas.
1 Hotel South Beach
Beachfront and steps from Lincoln Road Mall, 1 Hotel South Beach is known for its sustainable, luxury properties. LEED-certified, it's equipped with top-of-the-line energy-efficient heating and cooling systems.
Towering over the Atlantic Ocean, its rooftop pool and sky-high Peruvian-Japanese dining keep guests intrigued. The hotel also offers beachside morning yoga, upscale spa treatments, and a prestigious salon.
Restaurants in Miami — Where to Eat
NAOE
Located in Brickell Key, this gem is a Forbes Travel Guide Five-Star Japanese restaurant. Featuring an exclusive Chef's choice menu, reservations are required and will likely need to be placed months in advance. Presentation and flavor are out of this world; the intimate setting only allows four diners at any given time so that you have Chef Kevin Cory's undivided attention.
Nusr-Et Miami
A meat-centric experience in the heart of Miami, Nusr-Et is a Turkish-based steakhouse internationally renowned for its salt-sprinkling chef and butcher, Nusret Gökçe. Featuring gold-crusted tomahawk and succulent wagyu, it's undeniably top-tier for the carnivores in Miami.
Nobu Miami
Delivering a luxurious dining experience of Peruvian and Japanese flavors, Nobu is recognized all over the globe. Created by Chef Nobu Matsuhisa and Robert De Niro, the elegant decor and decadent caviar keep Miami travelers hooked.
Entertainment in Miami for Bleisure Trips
Yachting
One of the best ways to experience the endless sunshine and crisp waters of South Beach is off the deck of your own yacht. Whether taking the team out or indulging in a solo trip, cruise the bays of Miami in style with a private chef, unlimited champagne, and a roaring DJ.
EXEC Private Label Tickets
Miami is a hot spot for sporting events, festivals, comedy shows, and concerts. Between Cirque du Soleil and the Miami NBA Heat, entertainment options are at your fingertips with EXEC Private Label Ticketing.
With this exclusive marketplace, EXEC members can access discounted tickets to the top events, shows, and festivals in South Beach anytime, without exorbitant service fees and surcharges.
Further Reading for Corporate Travel Managers & Senior Executives
Bleisure can be a compelling benefit for your team, especially when talent retention is at risk. To learn more, read The Business Traveler's Guide to Bleisure, where Scott Poniewaz, the Head of EXEC, shares his top tips for corporate travel managers.