How to Make Business Travel Seamless for Your Company & Employees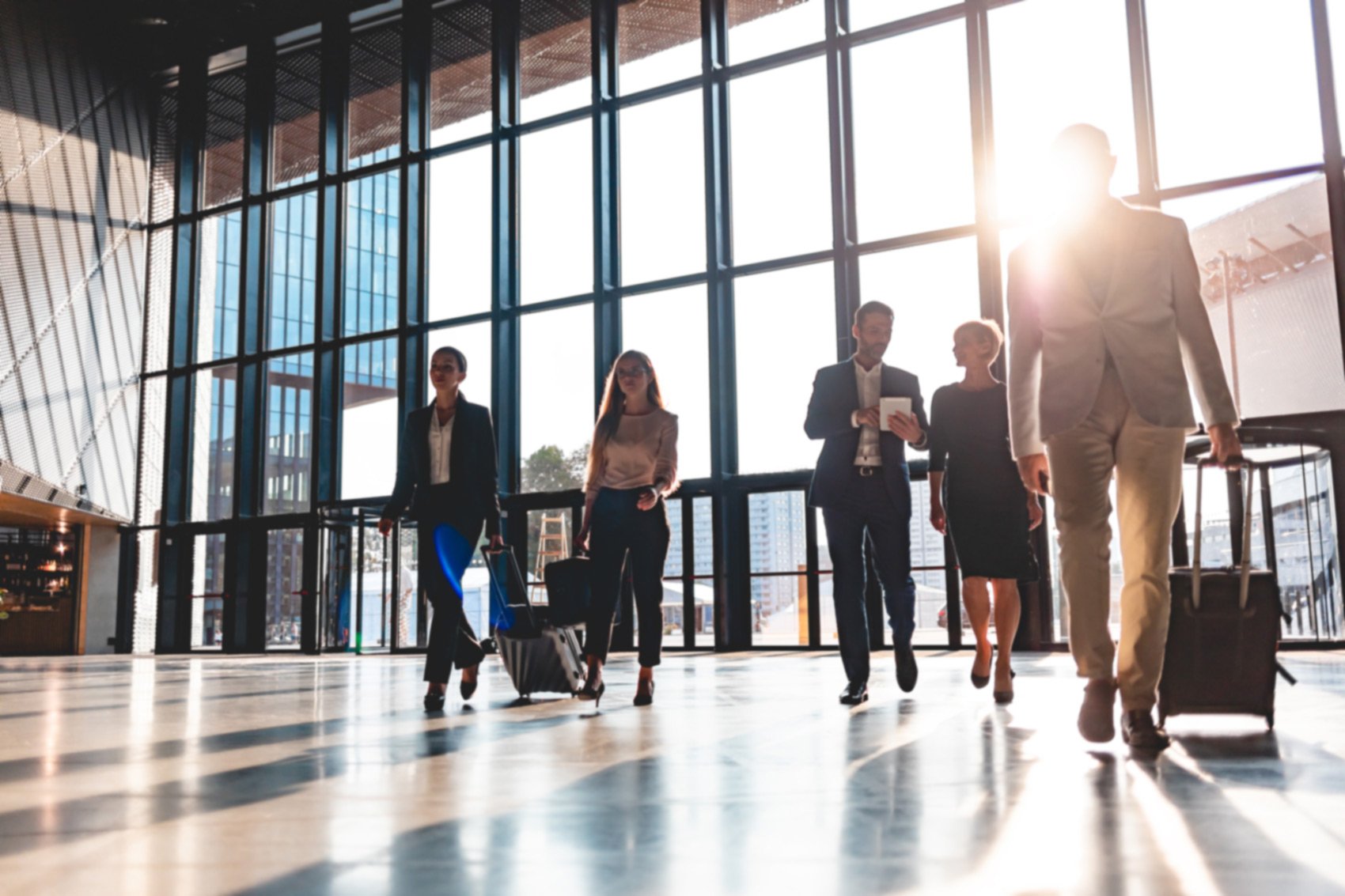 From arranging an itinerary to navigating a new city, planning business travel for yourself or your team can be overwhelming. As an organization, there are a slew of factors to consider in order to ensure your employees are well taken care of. As a traveler, there are a plethora of perks and programs to be aware of to make your next corporate trip as hassle-free as possible.
Whether you're dealing with delayed flights, long airport lines, or trying to arrange hotels and car rentals for large parties—make the most out of your next trip with this guide to seamless business travel.
Business Travel Tips For Companies
As a business, booking a trip for large groups can be difficult to navigate and keep track of. From ensuring a block of hotel rooms are booked and spacious cars are rented, to providing a productive itinerary for each employee — the following are several tips and tricks for seamless travels.
Up to Date Business Travel Policy
These policies are essential for companies who require frequent traveling. It serves as a guide and point of reference for employees' common questions and concerns, and ensures everyone is on the same page from the inception.

Ditch the Receipts
Keeping track of paper receipts for one person is tedious, let alone tracking expenses for an entire team. Several mobile apps are available for efficient budget tracking. Expense apps are also available to help both the employee and employer manage spending and reimbursement.
The Itinerary
Creating a single itinerary for each trip will save you and your employees valuable time. Rather than digging through emails and searching for boarding passes and hotel reservations, having it easily accessible is key. Travel-management software is a great investment for larger organizations.
Prep and Debrief
Maintaining an open line of communication before, during and after travel is essential to a successful business trip. Utilize checklists to organize everything that's needed before travel. Upon return, debrief the team to discuss what went well and what should be improved for future trips.
Your EXEC Membership
EXEC is a highly-curated, exclusive membership program designed to improve the lives of busy executives. Equipping your executive teams with an EXEC membership will not only enrich their business travel experience, it'll also save your organization time and money.
EXEC offers access to unparalleled business travel benefits, such as discounted hotel and car rental rates, special airline statuses, private travel perks, and access to travel management services—just to name a few.
Business Travel Tips For Employees
As a traveler, the stress of preparing for and conducting business in unknown territory can be overwhelming. However, there are many programs available to make your business travels seamless, as well as perks to take advantage of when clocking in from the clouds.
TSA PreCheck & Global Entry
These two federally managed screening programs are essential for both business and leisure travel. Skip the long lines and avoid the crowds of people when you sign up for Global Entry. For $100, it includes five years of TSA PreCheck along with a quicker route through U.S. Customs for international travelers returning to the United States.
CLEAR
A touchless airport security process, this is another great program to get you to your gate in no time. Utilizing biometrics such as retinal scans, you'll be in the comfort of your own lane and speeding through security for just $179 per year.
Hotel Benefits
Signing up for a loyalty program with your favorite hotel brand can provide you with dozens of benefits just for staying on their property. When you use their co-branded credit cards, you can enjoy early check-in, late check-out, and room upgrades. With the EXEC Hotels & Resorts program, you can enjoy deep discounts on the best publicly available rates before you even make a reservation, on top of the hotel's own programs.
Helpful Travel Apps
There are many mobile apps designed to make your travel experience much more convenient. FLIO can help you navigate your way through airports, TripIt is a great itinerary organizer, and Concur allows you to effortlessly keep track of your travel expenses.
OK Roger is another excellent resource for both individual travelers and teams traveling for business together. OK Roger empowers its human travel agents with state-of-the-art AI technology to help business travelers get the the most out of their trips.
Best of all—they are an EXEC partner, and you'll receive a hefty discount as part of your EXEC membership.
Self-Care
Travel can take a toll on your body. Sleep based on the time zone you are visiting, avoid alcohol while acclimating, stay hydrated, and try to maintain a well-balanced diet. Keeping up with your physical and mental health makes your travel experience much easier.
WRKOUT, which is part of the EXEC Lifestyle Benefits Program, will help you do just that. WRKOUT is a company that offers live personal trainers, so that you can stay on top of your fitness goals anywhere, on any device. Receive complimentary trainings and discounted rates with your EXEC membership.
Wrapping Up
Business travel can be hectic and overwhelming even for the best of us. Leveraging the collective experience of seasoned travelers will help to ensure your trips are safe and successful.
Interested in upgrading your business travel? Apply for an EXEC Membership to see why over 15,000 members have joined.
Apply Today