How to Maximize Your Business Travel With Exclusive Travel Perks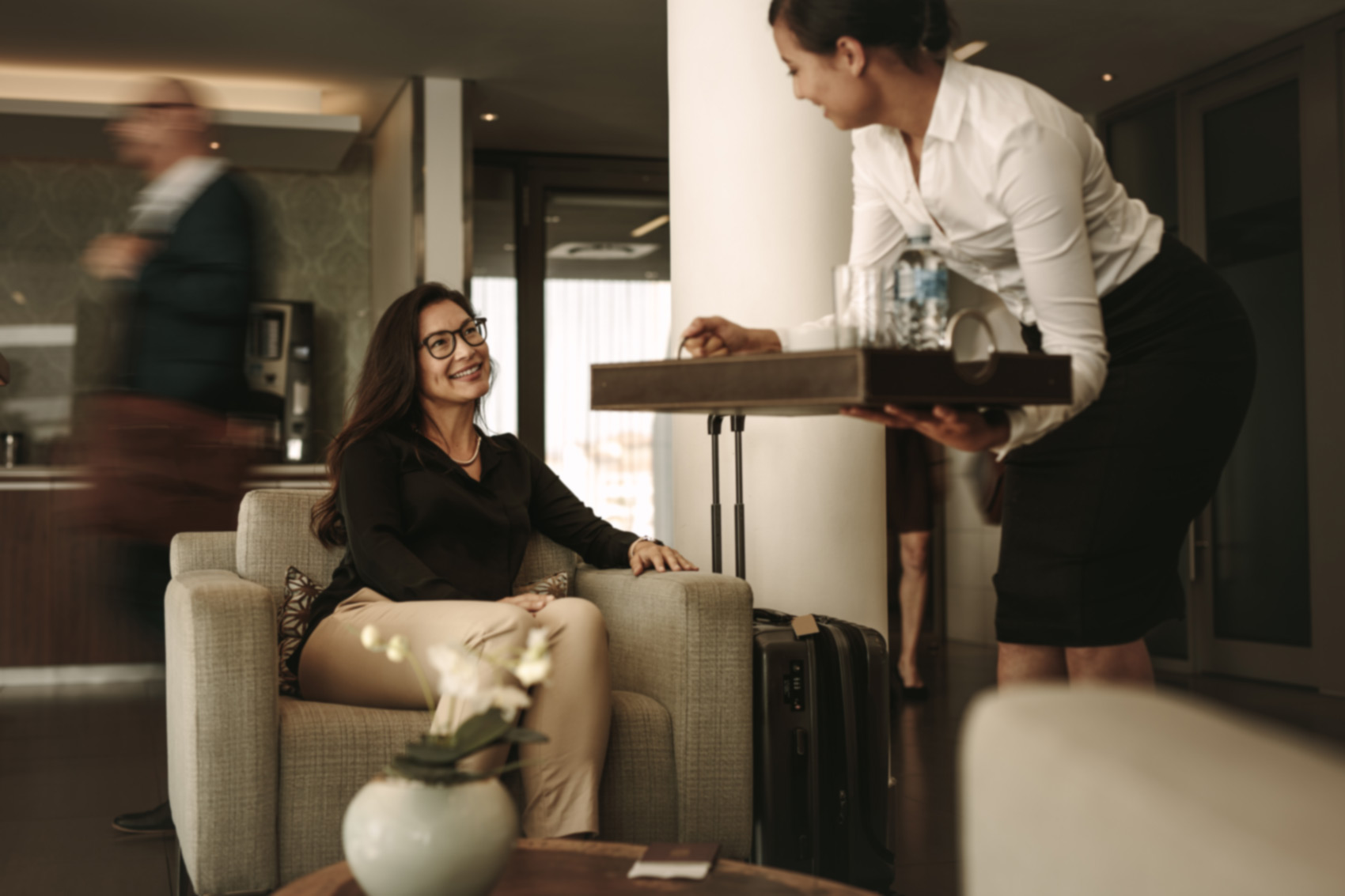 Whether you're a frequent or once-a-year flyer, leveraging all of the business travel benefits available to you—from lounge access to upgrades—can reduce the stress of business travel.
With the pandemic mostly behind us, businesses are resuming their corporate travel programs and sending teams around the globe.
With these tips and tricks, you can maximize the benefits of business travel for you and your company.
Top Business Travel Perks
Your EXEC Membership
Deeply discounted hotel rates at the world's most exclusive properties, special statuses with airlines, discounted car rental and black car chauffeur services, and more—EXEC offers unparalleled benefits for business travelers.
With Bleisure, the mix of business and leisure travel, becoming more prominent, EXEC Membership helps you get the most out both worlds
Best of all? The perks below can be reaped alongside your EXEC Membership's benefits, maximizing your savings and enriching your travel experience. Apply today.
Airline Loyalty Programs
No matter how often you fly, signing up for airline programs is a quick and free way to reap the benefits of business traveling. Regardless of who is paying for your airfare, the traveler gets the miles—which can turn into free flights down the road!
From seat upgrades to free trips, airline frequent flyer programs benefit both the company and the employee.
Lounge Access
Traveling can be exhausting for the mind and body, keeping you from being on your A-game for upcoming meetings and business events. No matter the distance of your trip, access to well-maintained airport lounges is a great perk for comfort and productivity. Terminals and gates are constantly flooded with people rushing to catch their next flight—lounge access gives you peace, comfort, and privacy.
Lounge access typically comes with several ancillary benefits, including WiFi, complimentary refreshments, spa services, showers, and even sleeping pods. Refresh yourself between flights while maintaining a healthy social distance from the crowd.
Several lounge memberships are available, providing travelers with access to airport lounges all around the globe. Priority Pass is one of the world's largest programs featuring multiple plans to suit you and your business. Companies can also sign up for various credit cards that offer lounge access perks, like American Express, Capital One, and Chase.
Hotel Loyalty Rewards & Credit Card Programs
Combining hotel reward programs and credit card purchases is a great way to optimize rewards for business and leisure travel. Several hotels have their own co-branded credit cards and utilizing both to pay for your stay can maximize your overall rewards.
Gaining these rewards grants travelers a higher status with each hotel, providing you with a plethora of benefits like room upgrades, restaurant credits, spa credits, and a much more lucrative earning rate. Utilizing a single hotel brand for your company's travels is a quick and easy way to earn points that can be redeemed during your current stay or on your next vacation.
With certain credit card programs, benefits are geared towards travel, featuring annual credits for hotels, flights, car rentals, and even checked luggage!
Skip The Airport Lines
There are several excellent programs that business travelers can take advantage of to save time, and avoid the hassle of congested airport lines.
TSA PreCheck: For $85, you'll receive TSA PreCheck for five years. This screening program provides travelers with a quicker, shorter, and smarter security process. Most notably, you won't be required to remove your shoes or your electronics from your bags.
Global Entry: For $100, Global Entry provides you with the same benefits of TSA PreCheck along with quicker U.S. Customs screening for international travelers returning to the United States.
CLEAR: For $179 annually, CLEAR is a touchless expedited security process that screens travelers biometrically, clearing you through TSA quickly and safely. CLEAR generally has a dedicated lane that allows you to combine its benefits with PreCheck, for an even faster screening process!
Car Rental Program
Business travelers make up a large portion of car rental consumers. Loyalty programs can provide you and your company with a range of benefits to make your trip much more seamless. Depending on your travel priorities, perks can include special rates, complimentary car upgrades, fuel credits, convenient pick-up and drop-off locations, as well as generous rewards to save up and use on your next trip.
Wrapping Up
Booking your business trips strategically is essential for making the most of your travel. Taking advantage of the programs offered by hotels, airlines, car rental companies, and of course, your EXEC membership, will make for a seamless and luxurious travel experience.
Ready to upgrade your business travel? Apply for an EXEC Membership.
Apply Today