The Best Hotels for Business Travel in NYC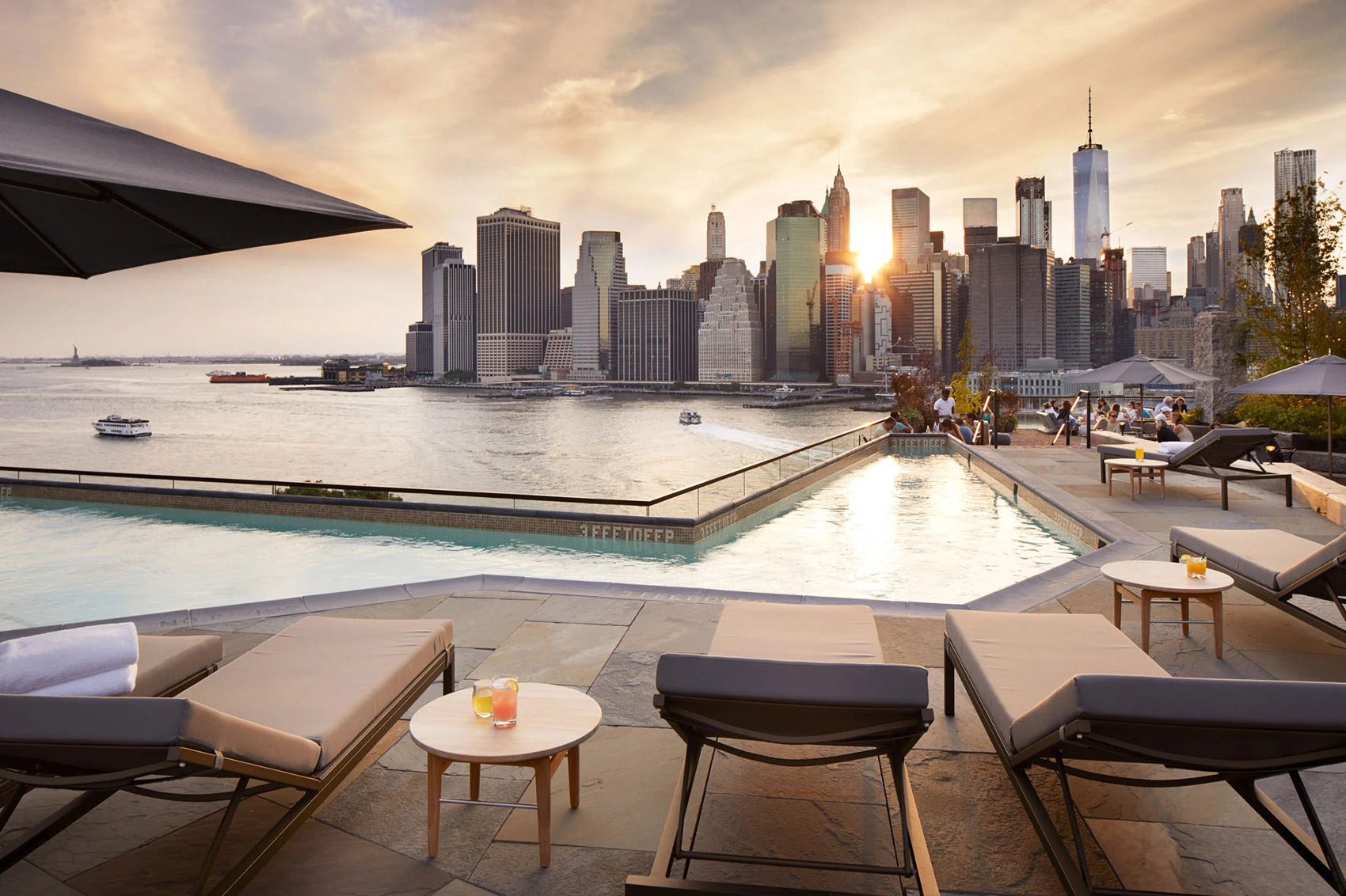 Image Credit: 1 Hotel Brooklyn Bridge
An alpha city known for commerce, fashion, politics, and entertainment, New York City is a major hub for business travelers.
Home to some of the most influential companies and individuals in the world, and millions of locals, finding a hotel to rest your head in the city that never sleeps can be overwhelming.
Below, you'll find a curated a list of some of the best NYC hotels for business travel.
Important Considerations When Choosing a Hotel for Business Travel in NYC
COVID-19 Safety
With the constant rise and fall of COVID-19 cases in New York City, vaccinations are only one way in which the city is combating the pandemic. Hotels are required to follow New York State and New York City regulations to ensure their visitors are safe and well, too.
When choosing a hotel to stay in, remember to consider each property's COVID-19 measures to ensure proper accommodations are made for you and your team, and that you're comfortable with the the rules you'll have to follow, as well.
Location & Surrounding Area
The Big Apple is incredibly vast and densely populated, so your hotel's location is a make or break factor when traveling to NYC. With a jam-packed schedule, being able to conduct your meetings within close proximity to your suite is crucial.
Between corporate events, breakfast meetings, luncheons, and business dinners, you'll want to be near some of NYC's world-renowned restaurants, as well.
Reputation, Ratings and Reviews
Guest reviews and travel expert recommendations play a huge factor when determining the best hotel for your business travel in NYC.
Maintaining a high rating and untarnished reputation is a hotel's priority, and makes it easier for business travelers to determine which hotel is the best fit for their needs.
Flexible Booking and Rates
Business travel can be very unpredictable—meeting times and locations may change, flights are often delayed, and when you sprinkle in erratic local pandemic restrictions, booking flexibility is essential. Whether it's a fair cancelation policy, transferrable rates, or the ability to adjust an existing reservation, consider these factors when booking business trips.
Ready to upgrade your business travel? Click the link below to learn why over 15,000 members have joined EXEC.
Apply Today
The Top Hotels for Business Travel in New York City
1 Hotel Brooklyn Bridge
Situated in Brooklyn's iconic DUMBO neighborhood, 1 Hotel Brooklyn Bridge boasts immaculate views of NYC's skyline, and is minutes from incredible restaurants.
Take in pristine views with a drink poolside at 1 Hotel Brooklyn Bridge's iconic rooftop pool, or schedule a treatment at their Bamford Wellness Spa at the end of your day.
DUMBO is a retreat from NYC's congested neighborhoods, making this hotel a great selection for a quiet night's rest after a busy day of meetings.
Other Amenities
Audi E-Tron House Car
Wellness spa offering holistic, nature-inspired treatments
Several on-site restaurants and bars
Rooftop bar and pool
In-room drinking water filtration system
Arlo Hotel Midtown
Located between Hudson Yards and Times Square, Arlo Hotel Midtown is a trendy mix of modern and classic designs.
While most check-in for its affordable rates, many stay for its modern rooftop terrace twenty-six stories in the sky. Seven distinct meeting and event spaces are available to accommodate all your business travel needs under one roof.
Other Amenities
24/7 fitness center
Complimentary WiFi
Nearby parking garage
Laundry service
Continental breakfast
Rooftop bar/lounge
Arlo NoMad
Only five minutes from the Empire State Building, this hotel is a perfect location for business travel due to its proximity to Penn Station and Grand Central. Between conferences, luncheons, and dinners dispersed throughout the city, quick transportation is essential in NYC.
Other Amenities
Complimentary fiber WiFi
Rooftop bar with glass-bottom views
Nearby parking
Middle eastern restaurant
24-hour Bodega
Arlo x Butler Room Service
Arlo Soho
A boutique property in Lower Manhattan, Arlo Soho is conveniently located only two miles from High Line Park. Known for its fine balance between value and luxury, many business travelers prefer this hotel for its ideal location and economic nightly rates. A rooftop bar and New American eatery provide travelers with a relaxing night-in, after a day of back-to-back meetings.
Other Amenities
Harold's
Complimentary WiFi
Nearby parking
Loaner bikes
24-hour market
Open courtyard
Weekly programmed social events
The Carlyle
As part of the Rosewood Hotels & Resorts group and located off Madison Avenue, this art-deco inspired masterpiece is one of New York's finest and most coveted hotels. Known for its lavish suites, sophisticated service, landmark location, and luxurious amenities, business travelers are sure to be taken care of on this plush property.
With world-class dining, refined boardrooms, and grand venues, few other hotels boast the capability to host business affairs as grand as The Carlyle.
Other Amenities
Decorated by renowned interior designers
Complimentary WiFi
Skyline views
Cafe Carlyle
On-site spa
On-site hair salon
Airport transportation
Conrad New York Downtown
This 5-star luxury hotel is perfect for an indulgent experience whether you're on business travel or a vacation. Situated right along the Hudson River, The Conrad is home to the largest hotel event space in Downtown Manhattan. Featuring innovative technology and high-end designs in all standard rooms, upgrading to the Executive or Deluxe suites gives you access to larger space, rainfall showers, and beautiful views of the river.
Other Amenities
Complimentary WiFi
Renowned rooftop bar
Valet parking
Walking distance from The One World Trade Center
24/7 fitness center
Barbershop
Mediterranean restaurant and bar
Four Seasons Hotel New York Downtown
This is one of the city's most luxurious hotels, located only minutes from One World Trade Center, the subway, and The Brooklyn Bridge. Perfect for a lavish business trip, you're sure to melt into a cloud-like bed in a spacious suite after a long day at work. With world-class dining and stunning city views, The Four Seasons is a landmark hotel that never disappoints.
Other Amenities
Premium WiFi
24-Hour In-Room dining
Chef Wolfgang Puck on-site restaurant
Nespresso machine per suite
75-foot lap pool
Helicopter tours
Valet parking
Grand Hyatt New York
Conveniently located in the middle of Manhattan and within walking distance of Grand Central, business travelers enjoy staying at The Grand Hyatt for its proximity to the city's top restaurants. For meetings held in the Chrysler Building or Rockefeller Center, you'll step out of your suite and be within steps of your destination.
Other Amenities
Valet Parking
Complimentary WiFi
In-room spa services
City views
24/7 fitness center
The Market
The Ritz-Carlton New York, Central Park
This plush landmark hotel is the perfect place to rest your head after a long day of meetings and conferences. Only minutes from The MOMA and Central Park, the proximity to the city's attractions along with the modern spacious suites make this a favorite for business travelers.
Other Amenities
Complimentary WiFi
Soundproof windows
Carrara marble bathrooms
Valet laundry service
Tailored diplomatic arrival services
Limousine service
Revamped spa
Gastro lounge
YOTEL New York Times Square
A minimalist's nirvana, this chic hotel is a stone's throw from Times Square and the Port Authority. Tech-enabled rooms are standard, while their upgraded suites include panoramic city views, soaking hot tubs, and a private balcony. YOTEL's Terrace is one of NYC's largest rooftop spaces, serving delicious craft cocktails and small plates, as well as the option for private meetings and events.
Other Amenities
24/7 fitness center with several Peloton bikes
Continental breakfast
Automated luggage storage
Grab + Go Espresso Bar
Broadway cabaret club
High-speed WiFi
Nearby parking garage