The Best Dining Experiences in Airports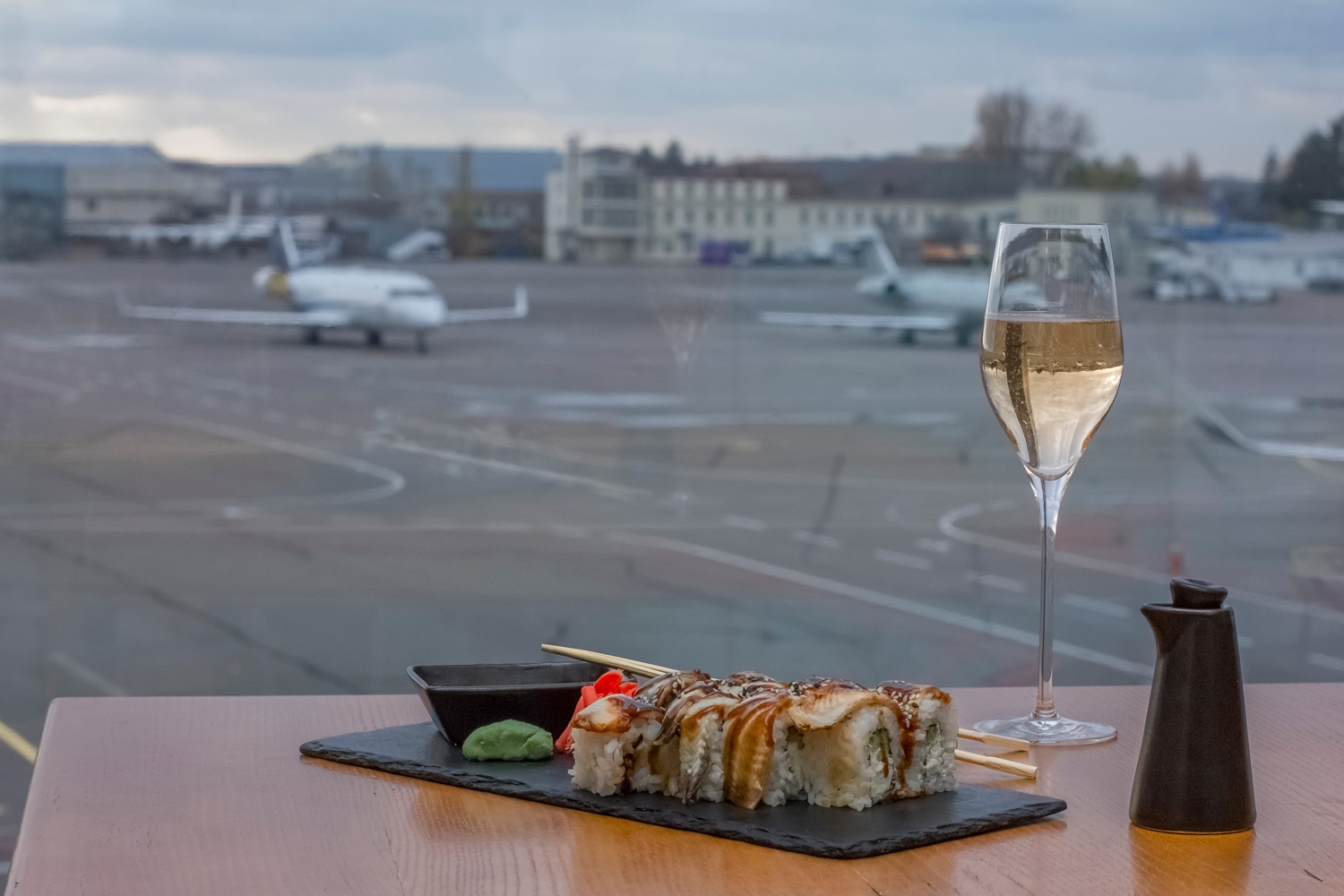 Gone are the days when being hungry in an airport was dreadful, and a wilted plastic-wrapped sandwich was the only option to quiet your stomach. Between delayed flights and extended layovers, we understand the feeling of being condemned to stale fries and days-old fruit cups.
As airlines merged and frequent flying became more common, airports began taking dining more seriously and started providing travelers with more options and better quality. As a result, the variety of cuisines and beverages is also on the rise, and food halls are now widely available throughout terminals.
Top chefs are entering uncharted territory, and some airport restaurants have even earned Michelin star recognition! Lounges are taking the dining experience to a new level, offering alfresco dining with unobstructed views of aircraft take-off and landing.
Not only are travelers looking for variety and quality, but health-conscious alternatives also tend to be hard to find. Whether you're looking for vegan, gluten-free, halal, kosher, or simply low in calories, these options can be the needle in a haystack of greasy burgers and watered-down smoothies.
Today's guide takes a look at the best food and beverage scene at domestic and global airports, giving you a glimpse into what you may be missing when you're rushing from gate to gate.
Dining Options at North American Airports
EWR - Newark Liberty International Airport, New Jersey
As one of the major gateways to the tristate area and Manhattan, Newark Liberty is growing among the top five busiest airports in the nation and is the third-largest hub for United Airlines. In 2018, EWR concluded a massive dining upgrade with a $120 million food hall in Terminal C. As previously noted, United Airlines' presence is so significant that it exclusively operates out of this terminal, making this food hall only available to United Express and United passengers.
United Airlines has also created an "invite only" space and menu for an exclusive and secluded dining option, sparking interest from frequent MileagePlus flyers. The new restaurant, Classified, is a "secret" experience for VIPs and is the perfect opportunity to enjoy a tomahawk ribeye and lobster chili outside the hustle and bustle of EWR.
Other dining options at EWR include:
Abruzzo Italian Steakhouse with menu inspiration from Chef Mario Carbone of The Grill
Casciano Italian Specialities with freshly made sandwiches created by those behind NY's The Grill and Carbone
Boar's Head Deli with made-to-order sandwiches
CIBO Express Kosher Gourmet Market for grab-and-go kosher options
Little Purse with Chef alum Dale Talde-inspired menu
Proof Whiskey Bar
Saison, initially opened by renowned Chef Alain Ducasse
Tsukiji Fishroom with sushi from Japan's famed Tsukiji Market
ATL - Hartsfield-Jackson Atlanta International Airport, Atlanta
As one of the world's busiest and largest airports, layovers and delays might be hard to avoid. Several local and deluxe dining options are available, including Hartfield's first fine dining restaurant: One Flew South. This contemporary venue combines fresh sushi, great cocktails, and an impressive wine list.
Other dining options at ATL include:
Chicken + Beer, opened by Ludacris
Atlanta Chophouse, steaks with meeting rooms for business travelers
Paschal's Southern Cuisine, serving iconic names in history like Aretha Franklin, MLK Jr., Al Gore, and Maynard Jackson
Bantam and Biddy, with Chef Shaun Doty
Grindhouse Killer Burgers, with build-your-own shakes, fries, and burgers
Ecco Restaurant
The Best Restaurants in Asian Airports
SIN - Singapore Changi Airport, Singapore
Between halal pho and internationally acclaimed chefs, Singapore Changi is a global hub for delicious multi-ethnic cuisine. SIN was even awarded World's Best Airport Dining Experience in 2022 by Skytrax. One of the airport's best features is Michelin-starred celebrity chef Wolfgang Puck's The Kitchen, bringing travelers exquisite Asian delicacies.
Other dining options at SIN include:
Kam's Roast, an outpost from one-Michelin-starred Kam's Roast Goose in Hong Kong
Kaveri Vegetarian Cuisine
Aburi-En
Shang Social, Shangri La Singapore's first standalone restaurant
Straits Food Village
Yun Nans
Beauty In The Pot
Violet Oon Singapore
Prive Jewel
HKG - Hong Kong International Airport, Hong Kong
As one of the world's busiest passenger airports and home to one of the world's largest terminal buildings, HGK has a lot to offer. From Michelin-starred Cantonese cuisine to quick Korean bites, the dining experience will take your tastebuds on an international adventure of their own. Perhaps one of the airport's top eateries is Michelin star Hung's Delicacies, a casual bistro chain with distinct local flavors.
Other dining options at HGK include:
Crystal Jade
Ho Hung Kee, the first wonton noodle shop to be recommended by Michelin
Tonkotsu 8
Duddell's, Michelin-starred
Gordon Ramsey's Plane Food To Go
Jardin De Jade, Michelin-starred
Baikohken Ramen, first to receive Asahikawa Best Ramen Award
Top Restaurants in European Airports
CDG - Charles De Gaulle Airport, Paris
Highly rated for international business travel, CDG is a hub for shopping, dining, and the ultimate royal experience. So it should be no surprise that the airport is home to a three Michelin star establishment serving some of the city's finest cuisine. I Love Paris is a luxurious restaurant in Terminal 2 helmed by Chef Guy Martin, where he concocts French classics and a stunning champagne bar.
Other dining options at CDG include:
Michel Rostang's Cafe Eiffel, helmed by two Michelin stars Chef Michel Rostang
The French Taste by Chef Guy Martin
Teppan, guided by two Michelin stars Chef Theirry Marx
Caviar House & Prunier Seafood Bar
Brasserie Flo
Bellota-Bellota
Conclusion
As the travel sector evolves, airports are working overtime to ensure they meet and exceed the standards of years past. Between luxurious lounges, excellent shopping, and fine dining, they are changing how travelers view layovers and becoming more than just a waiting station between flights.
Whether you're a frequent flyer or just passing through to your final terminal, the dining experiences at these airports will exceed your expectations.