Hong Kong's Best Business Hotels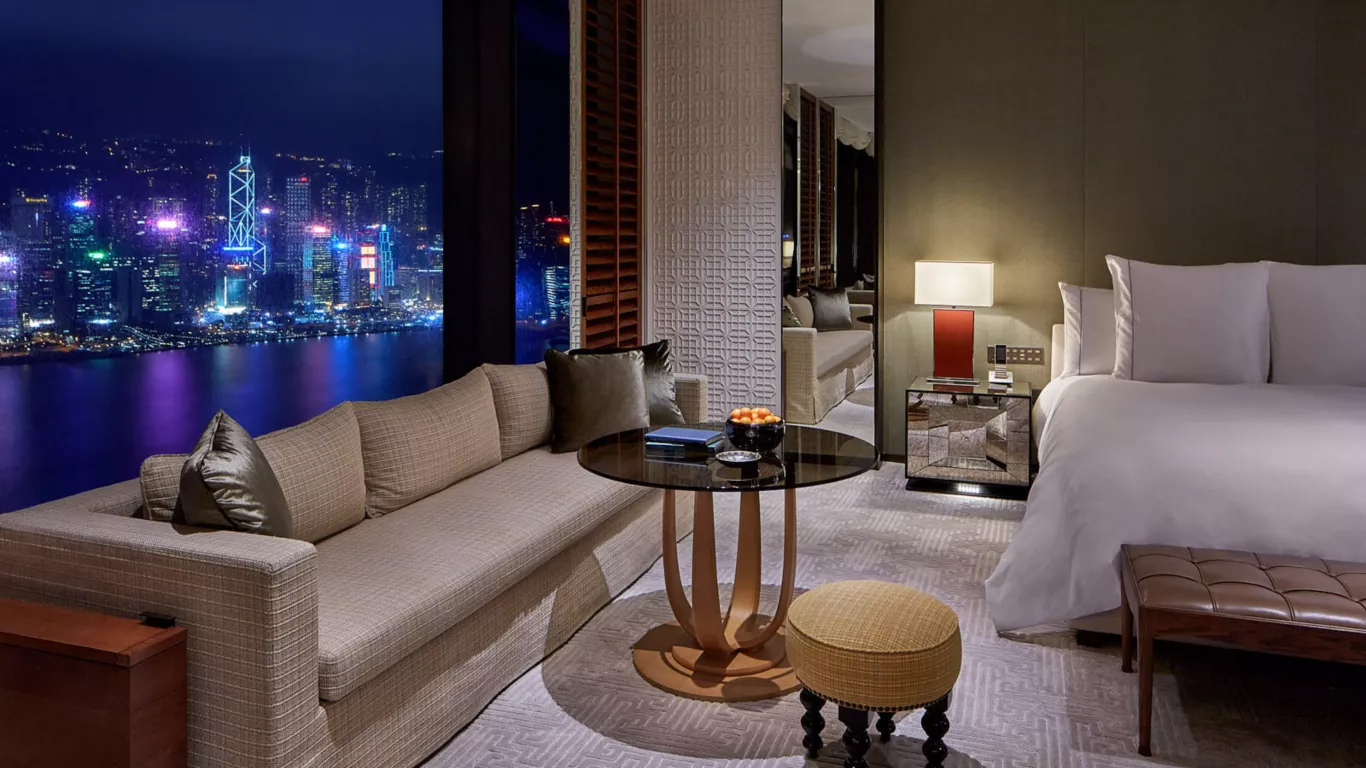 Image Credit: Rosewood Hong Kong
After the United States, Hong Kong is the second-largest trading partner with mainland China, making it a major hotspot for international business travel.
As a global financial epicenter, Hong Kong is home to booming firms across the entire spectrum: fashion, technology, real estate, and banking, to name a few. As a result, Hong Kong's economy is among the fast-growing economies in the world.
Rich in history, culture, and GDP per capita, the city is a hub for leisure and business travel. In fact, Forbes ranks Hong Kong number three in its list of Best Countries for Business.
Whether you're traveling with your company or family, finding a hotel that best suits your needs is essential to a successful trip. Below, you'll find a curated selection of top hotels in Hong Kong for business travelers.
Important Considerations When Choosing a Hotel for Business Travel in Hong Kong
COVID-19 Regulations and Safety
With the ebbs and flows of the pandemic, international travel can be difficult to navigate. It is essential for both guests and corporate travel planning teams to understand each country's COVID-19 regulations and recommendations before traveling. Similar to the United States, hotels in Hong Kong are also digitizing guest experiences to reduce person-to-person contact.
The hospitality industry has implemented numerous protocols, from automatically sanitizing high-touch areas, to making testing readily available on property, so that guests remain safe at all times.
Location & Commuting
Whether your conferences are on-site, or you'll be commuting to different meeting venues, ensuring your business hotel is within proximity to all your needs is essential. Being in a safe area, with an abundance of restaurants and entertainment options within reach mitigates the chances of your team getting lost in a foreign nation.
Staying at a hotel located near the city's public transportation, or a resort with ample parking or drivers available for hire will keep you safe throughout your business travels to Hong Kong.
Health & Wellness
International travel can cause travelers to lose sleep, forget to hydrate, and consume a nutrient-deficient diet.
Jetlag is a massive culprit to being off your A-game. Selecting a hotel with soundproof rooms, or requesting a corner suite can help you get a quiet and good night's rest. Amenities like spa services, 24/7 fitness facilities, and clean food options are great perks when traveling to Hong Kong for business to maintain your wellbeing, physically and mentally.
The Best Hotels for Business Travelers in Hong Kong
Four Seasons Hong Kong
As one of the most luxurious properties in Hong Kong, Four Seasons is a hub for culinary achievements, wellness initiatives, and luxe services. Only minutes from the Hong Kong Station and Central Ferry Pier, this posh property is perfect for corporate and leisure travelers.
Other amenities:
Harbour or mountain suite views
Executive Club lounge with complimentary breakfast
Complimentary WiFi
Seven Michelin starred dining options
Full-service spa
Airport shuttle service
Valet parking
Mandarin Oriental Hong Kong
Hailed as one of the world's most famous luxury hotel brands, this five-star property is at the top of Asia's most contemporary and luxurious getaways. Boasting massive suites, several Michelin-starred restaurants, and holistic spas, business travelers will feel on vacation when staying at the Mandarin Oriental.

Other amenities:
Complimentary valet parking
Babysitting services
Krug Room
Exclusive access to The Mandarin Club
World-class spa
Izakaya bar
City and harbour views
24-hour fully equipped business center
New World Millennium Hong Kong Hotel
Strategically located in the business and shopping district of Tsim Sha Tsui, this five-star hotel is within walking distance to the city's main public transportation hub. Providing guests with a stunning view of the Victoria Harbour, New World Millennium features a variety of luxuries great for business and leisure stays.
Other amenities:
Complimentary WiFi
Club lounge with complimentary breakfast and cocktails
Rooftop pool
24/7 fitness center
Six dining options
Airport shuttle services
Fully-equipped business center
The Peninsula Hong Kong
This is the flagship property of The Peninsula Hotels group, conveniently located in the business district of Tsim Sha Tsui. Also known as the "Grande Dame of the Far East," the hotel is known for its massive fleet of "Peninsula green" painted Rolls-Royces.
Other amenities:
Michelin starred cuisine
State-of-the-art spa and fitness center
Complimentary WiFi
Roman-syle indoor pool
Full-service laundry
Airport shuttle service
Car rental service
Valet parking
Rosewood Hong Kong
Overlooking the Kowloon Harbour, this sophisticated five-star property is among the most expansive hotels in Hong Kong. It is conveniently located less than ten minutes from the Hung Hom railway station. Signature suites, world-class dining, and a plethora of luxurious services, the Rosewood will ensure your business travels turn into future leisure stays.
Other amenities:
Complimentary WiFi
City or harbour suite views
Suites include Nespresso machines and Bose speakers
24-hour private butler service
24-hour concierge service
Valet parking
Asaya Wellness
Manor Club access