The Best Business Hotels in Dubai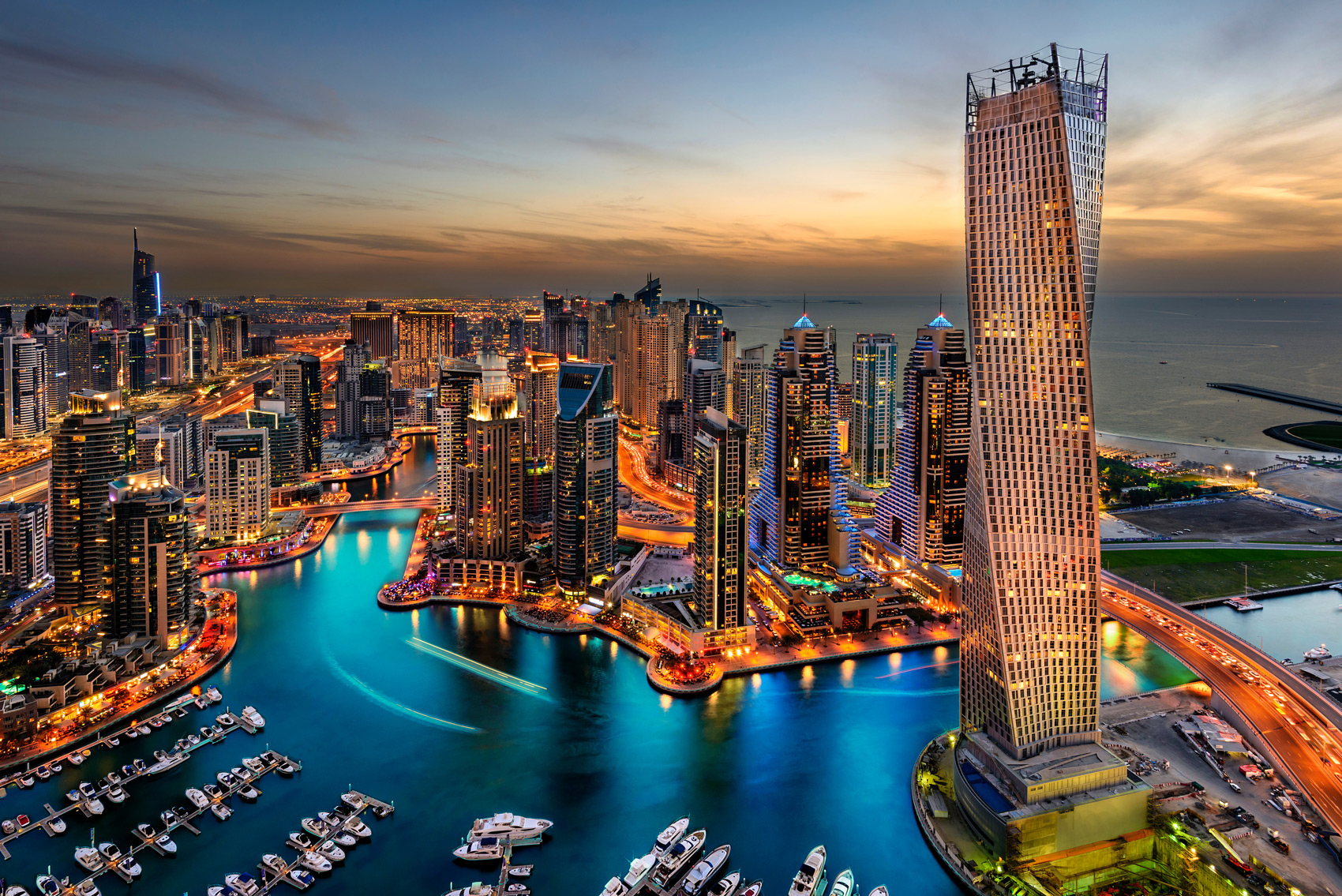 As one of the world's most futuristic and ever-growing metropolises, the United Arab Emirates is thriving and expanding in ways the world has never seen. As a result, millions of people head to Dubai yearly for luxury shopping, real estate opportunities, and world-class experiences.

In 2022, the city exceeded London in global corporate travel, producing one of the most robust travel recoveries after borders opened up again. Whether due to the high vaccination rate, endless sunny skies, or the epicenter of 'bleisure,' business trips make up almost one-third of Dubai's total annual bookings.
The city is loaded with ultramodern high-rises and multi-billion dollar skyscrapers, leaving travelers with a long list of luxury hotels for corporate travel in Dubai. EXEC has curated a list of some of the best options for you and your team.
Factors to Consider When Selecting a Dubai Business Hotel
COVID-19 Precautions
The high vaccination rate in Dubai has made corporate travel much safer and more convenient. In addition, the city was the first to host several mega-events as COVID-19 cases dropped, including Expo 2022 Dubai and the Dubai World Cup Horse race.
When planning corporate travel to Dubai or anywhere international, it is imperative to be mindful of the country's laws and regulations. The hospitality industry has evolved globally to minimize person-to-person contact while also digitizing several aspects of your stay to mitigate the spread of COVID-19. Search for hotels with the proper precautions to keep you and your team safe.
Location
You can choose from three landscapes in Dubai, including the desert, city, or beach. Consider the location of your business meetings to ensure easy commutes from your hotel as well as DXB, one of the top international airports for business travel.
Dubai is a hotspot for bleisure. Downtown offers proximity to the World Trade Centre and the Dubai Convention Centre, and the beachside resorts are great for those looking to spend their post-work evenings on the warm sands of Jumeirah.
Flexibility
COVID-19 has created a sense of unpredictability in the travel industry. To combat this, ensure your business hotel provides flexible booking options in case last-minute adjustments are required.
The Best Hotels for Business Travelers in Dubai, UAE
Andaz Dubai The Palm
Located on the Palm Jumeirah and only twenty miles from DXB, this five-star boutique hotel perfectly showcases Dubai's heritage and eclecticism. Perfectly combining the old-world charm with the ultramodern essence that Dubai is known for, Andaz boasts suburb location and business accommodations.
Other amenities:
Minutes from Nakheel Mall
Suites with Gulf views
Complimentary WiFi
Valet parking
Private car service
24/7 hour fitness center
Adult-only infinity pool
Over six thousand square feet of meeting space
Currency exchange
Burj Al Arab
An iconic landmark that's recognized all around the world, this luxury hotel is one of the most expensive properties in Dubai. Showcasing Arabian luxury, the jewel of the Jumeirah is located on its own manufactured island, a perfect place to stay when looking to combine business with pleasure.
Other amenities:
Complimentary WiFi
Complimentary parking
Private beach
Airport shuttle
Car rental onsite
World-class butler service
Two miles from Mall of the Emirates
9 restaurants and bars
Helipad
Four Seasons Hotel Dubai International Financial Centre
Minutes from the Burj Khalifa and the Dubai Mall, Four Seasons Dubai is a luxury five-star hotel conveniently located in the heart of the business district. Favored for its proximity to the city's leading conference centers, meeting spaces, top restaurants, and nightclubs, it's a corporate travel favorite for combining business and leisure.
Other amenities:
Complimentary WiFi
Valet parking
Airport shuttle
Car rental onsite
Suites with Burj Khalifa views
Glass walled rooftop pool
Airline reservation service
Award-winning dining
Desert excursions featuring bedouin-style dinner, Land Rover tour, and private air balloon ride
JW Marriott Marquis Hotel Dubai
Centrally located, the JW Dubai is a business traveler's favorite for its proximity to the city's most popular conference centers, restaurants, and attractions. Spread between two iconic twin high-rises, this five-star property is the second tallest hotel in the world.
Other amenities:
Complimentary WiFi
Complimentary valet parking
Car rental onsite
Currency exchange
Nightclub
24/7 fitness center
80,000 square feet of event space
10 restaurants and lounges
Two private hammam rooms
Le Meridien Dubai Hotel & Conference Center
Business travelers favor this five-star hotel due to its convenient location. Only minutes from DXB, the Dubai World Trade Center, and Burj Khalifa, the property sits on over thirty-five acres of well-manicured gardens. In addition, the conference center is one of the city's most prominent and newest facilities, attracting businesses from all around the world to host their events here.
Other amenities:
Complimentary WiFi
Complimentary valet parking
Airport shuttle service
Car rental onsite
Golf course and nightclub onsite
24/7 fitness center
18 five-star restaurants onsite
Currency exchange
Palazzo Versace Dubai at Jaddaf Waterfront
One of Dubai's most expensive hotels, Palazzo Versace, is a five-star property recently added to the Global Hotel Alliance (GHA) Ultratravel Collection for its luxurious amenities. This waterfront resort features tailor-made Versace designs and fully-loaded apartments with up to six bedrooms.
Other amenities:
Complimentary WiFi
Complimentary parking
9 restaurants with shisha services
Business center with executive meeting space and private terrace
3 lagoon pools
Nightclub
Airport shuttle service
Car rental onsite
24/7 fitness center
Shangri-La Dubai
Conveniently located within walking distance of the Dubai World Trade Centre and Dubai Mall, this recently renovated posh hotel is excellent for corporate travelers. At the Shangri-La, suites include stunning skyline views while remaining within minutes of the souks on Sheikh Zayed Road.
Other amenities:
Complimentary WiFi
Complimentary parking
7 restaurants and bars
Proximity to DXB
Nightclub
Car rental onsite
Airport shuttle service
Holistic spa
Read more here for our guide on the Best Luxury Hotels in Dubai