The Benefits of Business Travel for Companies & Executives in 2022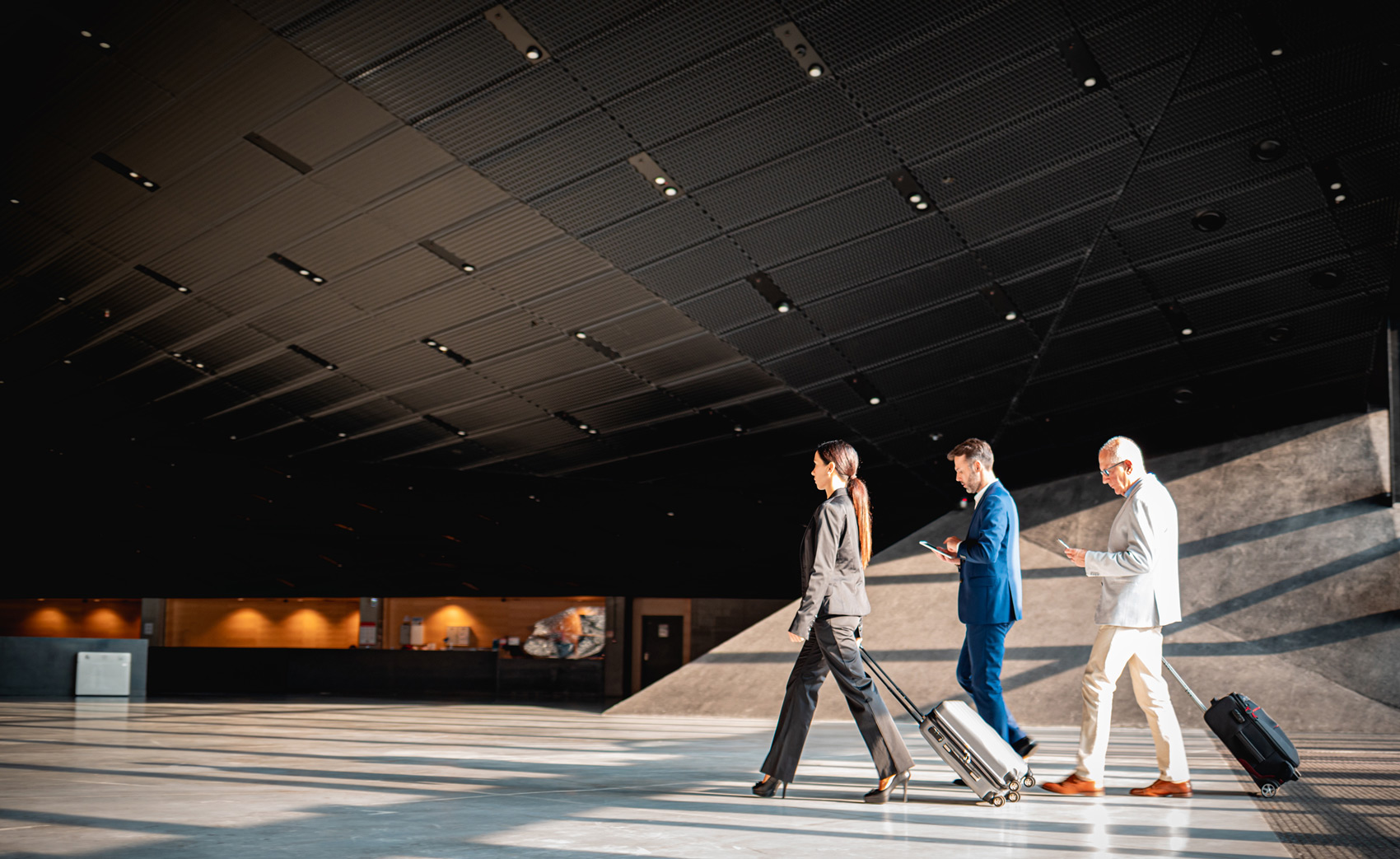 For most, traveling while on the job is a highly sought-after perk, and the benefits of business travel are particularly unique—for your organization, your executives, and your individual team members. New opportunities present themselves on these trips as you meet new people, new connections and environments spur new ideas, and the travel itself often acts as a source of reprieve for individuals.
Not only does your company benefit, your team reaps tremendous value as well—in both their professional and personal lives. Below are some of the top benefits of business travel for 2022, and why you should consider clocking in from the clouds.
In-person meetings are more influential
Zoom meetings and phone calls are only effective to a certain degree. Nothing surpasses the benefit of face-to-face meetings with an existing or prospective client. It is essential to foster these relationships at their inception to ensure a prosperous long-term relationship.
Meeting in person also places you at a much higher rank than competitors who choose to rely on emails or video conferences. The ability to visualize your client's environment and needs can also make providing for them much more effective.
Swap the monotonous routine for something new
Getting stuck in a daily rut is common and can be detrimental to productivity, especially when working from home. While we are all creatures of habit, waking up to the same cup of coffee and habitual routine can be simply boring.
Business travel affords you the benefits of a change in scenery, a change in people you collaborate with, as well as a change in the overall structure of your day. This is a refreshing departure from daily routines, and it keeps your team excited for their next business excursion.
EXEC Business Benefits
Need to get some work done while in a different city?
EXEC has incredible partnerships with companies like Convene, Deskpass and WorkChew that were built for exactly that. Contact us today to learn more about these exclusive business benefits, and all that an EXEC membership has to offer.
Earn and redeem miles & points
When companies book business travel on behalf of their teams, they reap the benefits of any credit card points—which add up fast. Individual team members can also earn them if they book themselves, and seek reimbursement thereafter.
Between credit card reward programs or the credit cards offered by major airlines and hotels, business travelers can easily rack up miles and points to use for their own vacations. Moreover, airline miles are usually associated with the traveler personally, so regardless of who is booking, there's generally a direct benefit in it for both parties.
Frequent business travel also makes justifying a TSA Pre-Check or Global Entry membership, along with a CLEAR membership much more palatable.
EXEC Travel Benefits
The EXEC Travel Program partners with leading travel brands to ease the stress of travel, from travel concierge companies like OK Roger to partnerships with leading car rental and chauffeur services, you'll be treated to an array of valuable services with preferred pricing.
Get access to exclusive business travel benefits with an EXEC Membership, apply today.
New people and new experiences
Traveling, in general, fosters a more well-rounded understanding of the world. These new experiences will only serve to benefit you, and ultimately your organization in the future.
As the old adage goes, "It's not what you know, it's who you know." While you may not know it now, the hands you shake abroad may be of great use to you and your company later on.
Meeting new people expands your social and professional network. This may result in new friends or colleagues, new clients, or potentially even a new employer. It's also the perfect time to learn about new cultures and brush up on a new language!
Team building opportunities
You never truly know someone until you travel with them. Traveling in groups fosters a sense of community and comradery that simply can't be replicated with a night out, a party, or an afternoon excursion. You'll often find that your team is closer after a successful business trip, and this ultimately yields better results when they're back to their daily responsibilities.
EXEC offers bespoke, exclusive experiences that are great for team building. Contact us to learn more about how an EXEC membership can upgrade your life and enrich the lives of your team.
Build new skills and confidence
Business travel is a great way to develop new skills and refine existing ones. From public speaking, adaptability, time management, networking, and best of all, confidence—the knowledge and skills built with business travel are essential to a successful career.
Being able to adapt to new environments, confront new challenges, and adjust to different day-to-day demands are lessons that you'll use and remember forever. Representing yourself and your company, you'll be compelled to confidently stand out among the crowd in your new environment.
Discovering new destinations and new hobbies
While business travel provides a long list of benefits to the company, visiting new places can diversify your personal bucket list of destinations. You may end up somewhere you never thought of traveling to, or experience new activities and hobbies exclusive to that city.
Get out and explore your surroundings after you complete your day's obligations—you never know what you may find and what may entice you to return on your own time.
Wrapping Up
It may seem overwhelming and at times exhausting, but business travel is essential for growing a sustainable and successful company.
EXEC can take the stress and hassle out of business travel, while saving your organization money and time.
Our membership offers exclusive perks for business and leisure travelers—including hotel discounts, travel benefits, unique experiences, and more.
EXEC was designed to upgrade and enrich the lives of busy executives, and it is an excellent way to reward your organization's most valuable members.
Contact us today to learn more about custom plans for larger teams, or even a single membership for yourself.
Get In Touch